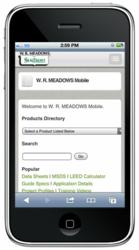 We wanted to provide an easier way to search for the information on our website when your only tool available is your mobile phone or tablet."
Hampshire, IL (PRWEB) May 08, 2012
W. R. MEADOWS, a leader in the construction products industry for more than 85 years, recently optimized its website for mobile viewing on iPhone, iPad, and Android devices.
Designed to load quickly on 3G/4G speeds, W. R. MEADOWS' mobile site eases architects, engineers, and contractors' searches for product information, data sheets, MSDS, and guide specs while traveling or on the jobsite.
The website will automatically detect use on an iPhone, iPad, or Android device and instantaneously display the mobile-friendly version. The re-formatted content is easy to view and fast loading, making the website easy to navigate for visitors on the go.
The mobile homepage provides easy access to the full W. R. MEADOWS product directory, site search, data sheets, MSDS, guide specs, application details, project profiles, and training videos.
In addition, the new mobile-friendly website makes it easy to share content via email or social networks. Users also have the option to switch to the standard PC version of site at any time.
Visit http://www.wrmeadows.com on your iPhone, iPad, or Android device to check out the mobile-friendly version.
W. R. MEADOWS, INC. designs, manufactures, and markets high quality building materials for today's construction professionals. Products are sold through our authorized distribution network. We are a family-owned and operated company focusing on product quality, business integrity, and outstanding service since our founding in 1926.
We remain committed to producing environmentally-friendly products and systems that meet or exceed the latest regulations. From highway construction and repair, building construction and restoration, to waterproofing/vapor barrier/air barrier products and more, we've been satisfying the needs of the public and private sector of the building construction industry for over 85 years.