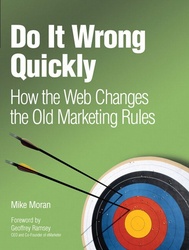 For hundreds of years, marketers controlled the message and the media and now they control neither. Rather, control of marketing is shifting to customers, and this book aims to empower marketers to understand and dive head first into this sea change.
NEW YORK (PRWEB) October 1, 2007
Author Mike Moran (http://www.mikemoran.com) is an IBM distinguished engineer, who helped build ibm.com into one of the world's top web sites and who wrote one of the best selling books on search marketing (Search Engine Marketing, Inc.: Driving Search Traffic to Your Company's Web Site, IBM Press, July 2005.)
Moran's interviews with industry leaders reveal that the seemingly contrarian advice to "Do It Wrong Quickly" is widespread among Internet marketers. Instead of spending months obsessing over everything that could go wrong with a new campaign, it's cheaper, faster, and more effective to just try something. A company can buy paid search ads today and change them tomorrow if they're not working. Experimentation and fast changes are the only way to find out what's right. Moran's suggestions include:
-- Listen to what your customers say. The Web -- and Web 2.0 in particular -- gives your customers a printing press to express opinions that you'd never have heard back in "the good old days." Customers are already having a conversation about you, using blogs, wikis, product ratings and reviews, message boards, social networks, and even hate sites (if you're really not listening). This conversation is happening--are you listening?
-- Watch what your customers do. The Internet is the biggest direct marketing play of all time. You can measure the response of your customers to everything you do. By carefully designing your experience, you can gather metrics and analytics based on every click. Your customers are voting with their mice--are you watching?
-- Respond--quickly. Accept the fact that none of us can predict what our customers really want. We're not setting out to do things wrong, but we can accept and work with the knowledge that we are doing it wrong most of the time. The point is that we need to find out that it's wrong and fix it--fast. It's amazing how smart you'll look when you respond to what your customers say and do.
These changes are not easy in many companies. Careers can end due to big mistakes, so admitting you don't know what customers want and that you'd like to experiment to find out may seem like a career-killing move. Do It Wrong Quickly is full of practical advice and stories from leading marketers on how to convince top management at any company that the rules of marketing need to be changed.
"Marketing is undergoing a revolution more profound than any of us are likely to see the rest of our lives, and we are just at the beginning of it," Moran said. "For hundreds of years, marketers controlled the message and the media and now they control neither. Rather, control of marketing is shifting to customers, and this book aims to empower marketers to understand and dive head first into this sea change."
Additional Praise:
"...Mike Moran shows you how- by trying lots of little things, studying the results, learning quickly from your failures, and doing it all over again. He gives you a framework for getting over your fears of talking with your customers without a committee to protect your behind. Great book." -- Robert Scoble, Video blogger of the Scoble Show and Co-Author of the top-selling corporate blogging book, Naked Conversations (excerpted from the book's Praise Page).
"If you are in an enterprise that has trouble executing fast enough, then act now and read Do It Wrong Quickly. It is extremely common for businesses to identify major areas for improvement or benefit but get mired down in distractions or red tape. Businesses that don't learn to execute at the speed of business today are just going to be left behind - the same way cars sped past the horse and buggy. Anything worth doing is worth doing wrong." - Bryan Eisenberg, Author of the #1 Wall Street Journal bestseller Waiting for Your Cat to Bark?
For a complete list of review comments, please visit: http://www.ibmpressbooks.com/bookstore/product.asp?isbn=0132255960
Book Outline
The book is divided into three sections. It opens with a discussion of how marketing shifts from monologue to conversation, and introduces the pivotal concept that customers are now active participants in creating marketing messages.
-- Moran advises on how to listen intently and respond to customers, while describing the new social media spaces where they are congregating: blogs, vlogs, wikis, podcasts, digital video, FaceBook, Flickr, Digg, Google, YouTube, etc.
-- He shares specific examples of companies that have embraced the do it wrong quickly philosophy, pointing to a range of industries such as apparel, consumer electronics and car manufacturing.
Part Two shifts the focus to watching customers online:
-- To generate and analyze metrics including customer traffic patterns and conversion rates, and to leverage that data to quickly identify areas for improvement;
-- Moran also outlines the key software tools for creating a strong Web experience, touching on site design, navigation and interactivity.
In the book's final section, Moran instills the confidence readers will need:
-- To overcome any personal resistance to making choices more quickly, and he encourages marketers to serve as a positive change agent within a larger corporate culture.
Do It Wrong Quickly is the newest addition to IBM Press(TM), a publishing partnership between IBM Corp. and Pearson Education, and the official publisher of IBM books for professionals and students. For more information and a downloadable sample chapter, visit http://www.ibmpressbooks.com or http://www.mikemoran.com. To stay plugged into Mike's musings, subscribe to his popular Biznology newsletter and blog: http://www.mikemoran.com/biznology/blog/.
About the Author
Mike Moran is an IBM Distinguished Engineer and Product Manager of IBM. Prior to this position, Mike spent eight years in various positions at IBM's customer-facing Web site, ibm.com, most recently as the Manager of ibm.com Web Experience, where he led 65 information architects, Web designers, Webmasters, programmers, and technical architects around the world. Mike also writes the Biznology newsletter and blog, is the co-author of the best-selling Search Engine Marketing, Inc., one of the best-selling books on search marketing, and writes the search marketing column for Revenue Magazine.
About IBM
For more information about IBM, please visit: http://www.ibm.com
About Pearson Education
Educating 100 million people worldwide, Pearson Education (http://www.pearsoned.com) is the global leader in educational and professional publishing, providing print and digital programs to help people of all ages learn at their own pace, in their own way. Professionals, leaders, academics, experts, and consultants draft the books and online resources that help develop today's and tomorrow's business leaders. Top technology companies who have chosen Pearson Education as their publishing partners include IBM, Microsoft, Cisco, Hewlett Packard, Intel, Adobe, and Macromedia. The company is home to such renowned publishing brands as IBM Press, Prentice Hall Professional, Addison-Wesley Professional, Peachpit Press, Cisco Press, Que Publishing, and InformIT. Pearson Education is part of Pearson (NYSE:PSO), the international media company. In addition to Pearson Education, Pearson's primary operations include the Financial Times Group and the Penguin Group.
Other product or service names mentioned herein are the trademarks of their respective owners.