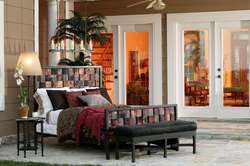 Cleveland, WI (PRWEB) May 12, 2010
Timeless Wrought Iron, providers of iron furniture, are proud to announce the launch of their redone website, TimelessWroughtIron.com.
Timeless Wrought Iron has put scores of new products on the site and there is no shortage of new products to come. They have recently acquired two new major wrought iron suppliers which they will continue to add products from throughout 2010.
The new website is full of furniture ideas from tables, seating, lighting and garden furniture, and features a secure online shopping cart, updated wish list feature allowing you to assemble your orders over time and save them for later checkout, easy contact information, and integration with Facebook, Twitter and YouTube.
Iron furniture has long been praised for its beauty and durability, but it can sometimes be difficult to find the exact piece to complete your home or garden. Timeless Wrought Iron seeks to put as many types of iron furniture and decor in one place to make it easy to find that elusive final piece of your decorating puzzle.
Timeless Wrought Iron was founded in 2007 with the aim of providing iron furniture and decorations from a wide array of artisans at an affordable price. Instead of having to shop in several different smaller websites and shops, TimelessWroughtIron.com puts all of them together in one easily navigable area while providing top-notch customer service and expertise.
"Providing customers with great iron furniture has been a dream of mine for a long time, and I'm happy to be able to share my passion with others," says Ryan Hansen, owner and founder of Timeless Wrought Iron. "With the launch of TimelessWroughtIron.com, we hope that we can be your one-stop shop for anything relating to iron furniture and decor. Our lines of communication are open, we stand behind what we sell, and we're excited to have the opportunity to help anyone find the piece of wrought iron decor they're looking for."
Timeless Wrought Iron
Phone: 1-800-957-1178
Monday-Friday 8:00am-4:00pm CST
# # #