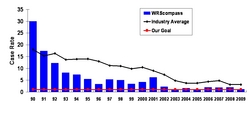 The execution of our safety program is a competitive advantage for our employees as well as our clients- Kathleen Shanahan
Baltimore, MD (PRWEB) June 16, 2010
WRScompass, CEO, Kathleen Shanahan will be presenting at the American Society of Safety Engineers' (ASSE) annual Professional Development "Safety 2010" Conference and Exposition today.
"Employee safety and health is WRScompass' priority in every facet of our operations," says Ms. Shanahan. "The execution of our safety program is a competitive advantage for our employees as well as our clients."
Ms. Shanahan will be participating on the conference's Executive Summit Panel which also includes NASA Chief of Safety and Mission Assurance Bryan O'Connor, Bill Ermatinger of Northrop Grumman Shipbuilding, Daniel Nobbe of Fiberteq and Gregory Hale of Disney Parks and Resorts.
"Safety is an integral part of our company culture," says Doug Nelson, Safety, Quality Assessment and Regulatory Affairs Director. "Do Safe to Be Safe' is our motto and that means being proactive and prepared for all situations and prioritizing our employees' health above all else."
WRScompass' nationally recognized safety program has outperformed the civil construction and environmental services industry safety average for 18 years in a row, recently being awarded the 2009 National Safety Council Occupational Excellence Award for the 7th straight year.
Safety, health and environmental professionals from all industries from more than 36 countries are expected to attend the American Society of Safety Engineers' (ASSE) annual Professional Development Conference and Exposition at the Baltimore Convention Center. The event provides attendees with one of the top comprehensive professional development and interactive opportunities for global SH&E professionals.
About WRScompass
WRScompass, d/b/a WRS Infrastructure Inc. d/b/a Compass Environmental Inc., is a 25-year old environmental remediation, geotechnical and civil construction company based in Tampa, Florida. The company employs an experienced, highly skilled technical and professional workforce of 600. With a nationally recognized safety program and its cleanNgreen sustainable remediation initiative, WRScompass offers its customers the dynamic and reliable team they need.
Please visit http://www.wrscompass.com for more information.
###