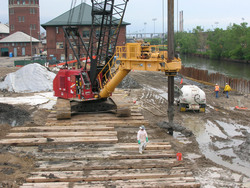 We welcome the opportunity to implement our cleanNgreen approach to other remediation projects throughout the country.
Tampa, FL (PRWEB) March 9, 2011
WRScompass was awarded a 2010 Project Merit Award by the Environmental Business Journal (EBJ) for their work on the Sanford Superfund Site in Sanford, FL.  The award was based on WRScompass' sustainable remediation approach, in which WRScompass substantially reduced the pollution emissions and environmental impact of the project.
"We are proud to receive a Project Merit Award from the Environmental Business Journal," says Kathleen Shanahan, CEO of WRScompass.
She adds, "WRScompass is pleased to have teamed with Natural Resource Technology, Inc. to provide the site owner and the U.S. EPA with innovative sustainable solutions incorporating our in-situ stabilization technologies, the beneficial reuse of site materials, and the reduction of environmental impacts through the life-cycle of the project.  We welcome the opportunity to implement our cleanNgreen approach to other remediation projects throughout the country."
The Sanford Gasification Plant Superfund Site was a former Manufactured Gasification Plant (MGP) that operated from the 1880's until the 1950's.  The project included concurrent operation of two drill rigs at varying depths and stabilization of more than 142,000 cubic yards of soil as well as the diversion and rehabilitation of more than 2,300 feet of creek bed. The site is the largest completed in-situ stabilization project in the United States to date.
In coordination with U.S. EPA, the site owner, and site engineer and construction manager NRT Inc., WRScompass applied their cleanNgreen sustainable remediation program using technologies that significantly reduced emissions at no additional cost to the customer.  WRScompass used granulated blast furnace slag in lieu of cement, resulting in a reduction of more than 10,000 tons of carbon dioxide. The company also shifted to the use of more fuel efficient tier-2 and tier-3 equipment, along with B20 biodiesel, which reduced greenhouse gas emissions by more than 20%. Additionally, WRScompass used a gravity drain system along the creek, which reduced reliance on the existing, energy intense, seven-pump diversion system.  Approximately 10 acres of trees and undergrowth were recycled and given to local landscaping companies to be used as mulch, preventing more than 800 tons of recycled material from being sent to landfills.
In all, the post-design applications resulted in a net reduction of over 8,000 tons of carbon dioxide emissions, equivalent to over 17,000 barrels of oil or more than 1,400 automobiles.
The journal announced the winners in a recent issue, and representatives of the winning companies will be recognized during a special ceremony at EBJ's upcoming Environmental Industry Summit IX in Coronado, Calif., on March 9, 2011.
The award represents WRScompass' 7th consecutive award from EBJ, including awards for its work on the Kissimmee River Restoration Project and for its cleanNgreen sustainability program.
To read about the EBJ awards go to http://www.ebiresearch.com/2010_EBI_%20Awards.
About WRScompass
WRScompass, d/b/a WRS Infrastructure Inc. d/b/a Compass Environmental Inc., has over 27 years of experience in the environmental remediation, geotechnical and civil construction industry. The company employs an experienced, highly skilled technical and professional workforce of over 400. With a nationally recognized safety program and cleanNgreen sustainable remediation initiative, WRScompass offers its customers the dynamic and reliable team they need.
Please visit http://www.wrscompass.com for more information.
# # #