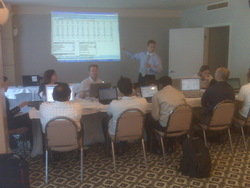 New York, NY (PRWEB) September 4, 2008
Wall Street Corporate Finance Academy (WSCFA) has upcoming weekend training programs to prepare students and professionals for their career in Investment Banking, Private Equity and Real Estate. Trainings occur in New York City, Boston, Chicago and Los Angeles.
Each training is run similar to in house training programs at Bulge Bracket Banks in a small class setting conducive to individual learning. Our Training program combines a step by step approach backed by case studies to maximize trainee's knowledge of the material and hands on experience. Our syllabus focuses on practical finance knowledge and comprehensive Financial Modeling training in Excel.
Upcoming trainings are:

Valuation & Financial Modeling Intensive Los Angeles Sept. 13-14th Chicago Sept. 27-28th
Valuation & Financial Modeling Boot Camp Level 1 NYC Sept. 13-14th, Oct. 9-10th
Valuation & Financial Modeling Boot Camp Level 2 NYC Sept. 27-28th, Oct 11-12th
Real Estate Modeling NYC September 20th
WSCFA is running a fall special on trainings. For full course schedule and information go to: http://www.wscfa.com or call 888-559-7232
# # #