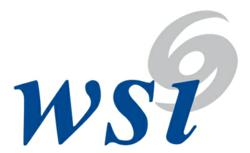 WSI Fusion enables operators to be aware of and stay ahead of disruptive, hazardous weather conditions. These capabilities keep flights and passengers safe and on schedule.
Andover, MA (PRWEB) January 17, 2012
WSI (Weather Services International), the most trusted name in aviation decision support, today announced the upcoming availability of WSI Fusion 4.2. The new version, which will be available by the end of January, further extends WSI Fusion's global weather and flight management capabilities for improved operational efficiency, safety and global decision-support.
"WSI Fusion enables operators to be aware of and stay ahead of disruptive, hazardous weather conditions. These capabilities keep flights and passengers safe and on schedule," said John Szatkowski, WSI Senior Product Manager. "With the addition of Australian and European Radar, both with precipitation type, this release offers the tracking and avoidance of enroute and terminal hazards on a world-wide basis."
Driven by user feedback, Fusion 4.2 delivers the following enhancements:

Australian Radar – Coverage of radar-based precipitation across the Australian
continent, updated every 15 minutes. This further increases WSI's international radar
availability.
European Radar With Precipitation Type – As an enhancement to the existing European
radar coverage, users may clearly see areas of freezing rain and snow without having to
overlay additional layers or reference additional sources.
In addition, Fusion 4.2 offers unparalleled options to streamline workflow and gain system-wide efficiencies. These include:
North American Radar Mosaic – Providing a comprehensive view of radar returns from
Canada through the tropics, with recently increased coverage of Mexico and the
Caribbean.
Active SUAs (Special Use Airspace) - Indicating which US Special Use Airspace regions
are currently in use or reserved for the operational day.
Enterprise and Flight Planning Interfaces, including relevant Alerting – Integrating
customer data from external sources to enable optimal flight following and routing
choices.
Updated Web Based Training portal – An online training site that includes all of WSI's
newest Fusion features.
WSI Fusion
WSI Fusion enables proactive operations management by providing early insight into changing flight, airfield and airspace conditions while streamlining the decision-making workflow. The solution combines global, public and proprietary weather information, airspace constraints, flight track information and navigation data, including NOTAMs, into a unified, clear operational picture, taking the guesswork out of situational decisions. Flight operators benefit through improved operational efficiencies and safety, especially during potentially disruptive weather events.
To learn more about Fusion 4.2, visit the WSI Booth # 1008, at the NBAA Schedulers & Dispatchers 2012 in San Diego, January 15-18.
About WSI Aviation
WSI, the most trusted weather decision support provider in the aviation industry, provides a proactive, aviation operation management suite ensuring common situational awareness and continuity in decisions through every phase of flight. WSI FusionTM is an integral component of this flight support solution, which includes WSI Pilotbrief® preflight planning and InFlightTM datalink for pilots, as well as WSI HubcastTM terminal forecasts and alerting for airport stakeholders. WSI also operates a Global Forecast Center staffed by experienced aviation meteorologists who produce operational terminal and enroute forecasts globally as well as provide timely briefing and irregular operational support.
About WSI
WSI (Weather Services International) is the world's leading provider of weather-driven business solutions for professionals in the aviation, energy and media markets, as well as multiple federal and state government agencies. WSI is a member of The Weather Channel Companies and is headquartered in Andover, Massachusetts with offices in Birmingham, England. The Weather Channel Companies are owned by a consortium made up of NBC Universal and the private equity firms The Blackstone Group and Bain Capital. More information about WSI can be found at http://www.wsi.com.
Contact:
Linda Maynard
WSI Corporation
978-983-6715
lmaynard(at)wsi(dot)com
Editorial Contact:
Barbara Rudolph
Rudolph Communications
781-229-1811
bjr(at)rudolphcommunications(dot)com
###