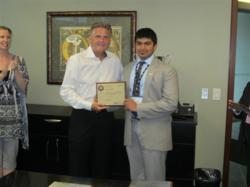 Mark Zuckerberg demonstrated that age is not a factor in Internet marketing.
London & Hertfordshire (PRWEB UK) 17 August 2012
WSI is proud to announce the youngest ever certified Digital Marketing Consultant to qualify at 17 years of age- Prakrit Kapur popularly referred to as PK.
PK is undergoing education at Rickmansworth School and whilst in education he underwent an extensive training regimen, which involved more than 60 hours of online modular training and supplemented by extensive study offline.
He then travelled to WSI head office in Toronto, Mississauga, Ontario for a face to face extensive classroom training of 70 hours supplemented by further work outside of these hours. He was certified as a Digital Marketing Consultant and was awarded the honour by the President of WSI Doug Schust.
Young age has not hampered his keen mind and he educated himself to be certified as a Digital Marketing Consultant. He will handle the responsibilities of Social media at WSInnovativesolutions- Hertfordshire branch.
Business in London & Hertfordshire can now utilize Internet marketing techniques to attract more qualified website traffic and increase online customer conversion. WSI (We Simplify the Internet), worldwide leader in Internet marketing is proud to announce the launch of a new Internet Marketing Consultant office to serve the London and Hertfordshire area.
Headquartered in Toronto, Canada, WSI's latest office will be run by Manny Kapur who will provide local businesses with specialized Internet marketing strategies. Manny Kapur aims to educate business owners on the latest trends, best practices, tips and techniques that can help them harness the full potential of the Internet. Using specialized tools like the WSI WebScan Report™ to study the current efficacy of a website, Manny Kapur will help clients achieve top positioning for their websites in the highly competitive Internet space. This enhanced brand visibility will offer companies and organizations increased overall business profitability. The most tangible benefits to WSI clients are increased business efficiencies, targeted website traffic and more customer conversions online.
Manny Kapur's WSI office, based in Watford will supply attractive, fully-functional e-Business solutions at an affordable price to small and medium sized businesses (SMEs) in London and Hertfordshire. Not just a website provider, WSI offers a complete partnership, including post-implementation support and statistical reporting packages in the extensive product catalogue offered to clients.
Manny Kapur has 20 + years of experience in global MNC's heading Marketing Departments with the likes of AT&T amongst others.
WSI's internationally recognized Certified Internet Marketing Consultants assess clients' business needs and opportunities by using the patent pending WSI Internet Marketing Lifecycle™ System, an Internet solutions delivery framework. The first step is the Internet Business Analysis (IBA) process, during which Manny Kapur will ask direct questions to identify clients' competitive advantage, target markets, online/offline marketing initiatives and objectives of an Internet presence. The client's Internet Solution is then customized - using services such as consultation, design, development, hosting, optimization, site registration and Internet marketing support - to both reduce business overhead and increase profit. Using the WSI Conversion Architecture™ model, a WSI Internet solution is then designed to draw qualified traffic to a website leading to more customer conversions online.
About WSI:
WSI is the world's #1 franchise offering Internet marketing services to suit the needs of multiple industries. The company has the world's largest Internet Consultants' network and a strong head office in Toronto, Canada. WSI Internet Marketing Consultants have helped thousands of small and medium-sized businesses realize their online marketing potential. By using innovative Internet technologies and advanced Internet marketing strategies, businesses can have a WSI Internet Marketing System tailored to their individual needs to elevate their Internet presence and profitability to new levels. In 2009, WSI was the proud recipient of 5 Standard of Excellence Awards at the Annual WebAwards Competition organized by the Web Marketing Association (WMA). WSI has been ranked the #1 Internet Services Franchise in Entrepreneur Magazine's Franchise 500 listing for 10 years in a row. Entrepreneur Magazine also ranks WSI at #13 among the Top Home Based Franchises and #49 in America's Top Global Franchises. With the support and cooperation of its customers, franchise network, employees, suppliers and charitable organizations, WSI aims to help make child poverty history through its global outreach program. For more information about WSI's offerings and business opportunities, please visit our website at http://www.wsinnovativesolutions.com/
If you would like more information about WSI and/or to receive a complimentary £1000 value Internet Business Analysis (IBA) or Free website health check webscan, please visit http://www.wsinnovativesolutions.com/, to contact Manny Kapur directly you can mail him at manny(at)wsinnovativesolutions(dot)com or call 07917778387 today.