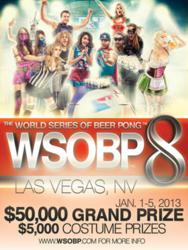 "The World Series of Beer Pong is an international sporting competition returning to Las Vegas for its eighth year," said Billy Gaines, co-founder of The WSOBP. "The total prize pool is the most it's ever been at $70,000. Things could get interesting."
LAS VEGAS (PRWEB) December 04, 2012
The 8th annual World Series of Beer Pong® (WSOBP VIII) will be held Jan. 1-5, 2013 at the Flamingo Las Vegas to determine which team's focus will leave the last cup standing and take home the $50,000 grand prize. This year's total prize pool has been increased to $70,000, including $5,000 in costume prizes.
The 2013 World Series of Beer Pong is expected to draw more than 500 teams from at least 48 U.S. states and over a dozen countries. Cups will be racked, balls will be tossed and friendships will be tested, all in the name of the largest beer pong competition in the world.
WSOBP rules allow for play with beer, water or another liquid. During play, two-person teams stand at opposite ends of an 8-foot-long table, where ten 16-ounce cups, filled with roughly 4 ounces of beer or another liquid, are placed in a bowling-pin formation. Each team takes turns tossing beer pong balls (similar to table tennis balls) at their opponent's cup formation. If a ball goes into a cup, the cup is removed from the game. The first team to eliminate all of its opponent's cups wins.
Players interested in competing in the WSOBP VIII must register online before the Dec. 10, 2012 deadline. Player packages currently start at $499. All packages are priced per person and include a four-night hotel stay at Flamingo Las Vegas and entrance into the WSOBP VIII.
ABOUT THE WORLD SERIES OF BEER PONG:
The WSOBP was founded in the name of beer pong players across the world, for the purpose of establishing the finest competitions, issuing the largest prizes, and determining conclusively the team that is the Beer Pong World Champion. The WSOBP strives to further the cause of beer pong, internationalize the game, maintain a tournament-standard set of rules, promote responsible beer pong playing, legitimize its status as a sport, and throw an epic party in the process. For more information or to register, visit wsobp.com.