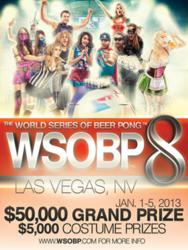 "The 8th annual World Series of Beer Pong's sponsors and headliners this year truly speak for the vast group of players we have," said Billy Gaines, CEO of the WSOBP. "From politicians to hardcore beer enthusiasts, it's a sport everyone can enjoy."
Las Vegas, NV (PRWEB) December 27, 2012
The 8th annual World Series of Beer Pong® (WSOBP VIII), held Jan. 1-5, 2013 at the Flamingo Las Vegas, is proud to announce Pabst Blue Ribbon (PBR) as the official beer sponsor, along with several other tournament endorsers sure to make this year's competition a blast in a plastic cup.
Already expected to draw more than 500 teams from at least 48 U.S. states and over a dozen countries, the 8th annual WSOBP is also rounding up top-notch ambassadors including PBR Beer, Trudeau Red Party Cup, Las Vegas' Spearmint Rhino Cabaret and upcoming comedy flick 21 & Over.
Tournament treats include appearances by the Las Vegas Spearmint Rhino Adult Cabaret vixens, Las Vegas icon Oscar Goodman kicking off WSOBP VIII on January 2nd with the first official ball toss of the tournament, and a newly-announced closing party on January 5th at Las Vegas' PURE Nightclub, where tournament goers will celebrate the team whose focus wins them the $50,000 grand prize and beer pong bragging rights.
For official rules and regulations or more information on the 2013 World Series of Beer Pong, visit wsobp.com.
ABOUT THE WORLD SERIES OF BEER PONG:
The WSOBP was founded in the name of beer pong players across the world for the purpose of establishing the finest competitions, issuing the largest prizes, and determining conclusively the team that is the Beer Pong World Champion. The WSOBP strives to further the cause of beer pong, internationalize the game, maintain a tournament-standard set of rules, promote responsible beer pong playing, legitimize its status as a sport, and throw an epic party in the process.
For more information or to register, visit wsobp.com. Keep up with WSOBP on Twitter or Facebook.