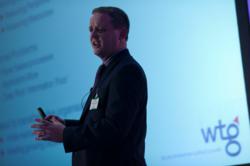 WTG's Rapid Engagement Model streamlines the consultative process within public sector organisations
London (PRWEB UK) 20 September 2012
WTG, sponsors of PSEICT 2012, will discuss the advantages that its Rapid Engagement Model brings to public sector organisations looking at sourcing ICT solutions.
PSEICT addresses the deployment of the Government's Information and Communication Technology (ICT) Strategy published in 2010 and focuses on the government's drive to achieve £1.4bn of savings in four years whilst delivering better and more-effective public services digitally.
The first of the government's three strategic targets and a central theme to the conference is reducing waste, which includes initiatives such as introducing new procurement frameworks to open the market to SMEs and increase competition in a landscape currently dominated by a few large suppliers.
As a SME with over 11 years of experience in web consultancy to the public sector, WTG will present the advantages of facilitating SME involvement in Government Procurement.
Harvey Durrant, CTO at WTG, will showcase examples of how WTG's Rapid Engagement Model is able to streamline the consultative process within the public sector. The WTG multi-step model offers considerable benefits:

Produces rapid outcomes when addressing business questions
Offers engagement with senior consultants at an early stage
Allows budgets to be allocated to implementation, not investigation
Avoids the need for costly and time-consuming tender processes.
PSEICT 2012 will be attended by WTG's Chairman, Alan Howarth, a well-known figure in the health, education and private sectors, and one of the founding members of Ernst & Young.
Delegates to the conference will also include selected WTG customers from the public sector.
For further information on this press release or Web Technology Group, please contact Patrizia Casoni or visit http://www.wtg.co.uk.