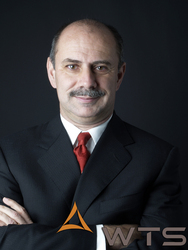 We are proud to have Richard recognized for his commitment to education in the iSeries community
Seattle, WA (Vocus) June 16, 2010
WTS, Inc., a provider of managed disaster recovery, and IT infrastructure services for IBM iSeries environments running on IBM Power Systems, announced that Richard Dolewski, Chief Technology Officer and Vice President of Business Continuity Services for WTS, has been recognized for the sixth consecutive year with a Speaker Excellence Hall of Fame award from COMMON. Attendees to COMMON's Annual Meeting and Exposition held in Orlando, Florida on May 3-5, 2010 recognized four of Mr. Dolewski's presentations as sessions with exceptional content and delivery.
COMMON established the Speaker Excellence Hall of Fame to recognize presenters at its conferences whose sessions are exceptional in both content and delivery. Speaker Excellence Hall of Fame Awards are based on evaluation forms from conference attendees and ratings are based on responses to questions regarding session content, the speaker's presentation skills, the speaker's ability to communicate knowledge of the session topic, use of training aids, and the overall rating for the session. The Speaker Excellence Hall of Fame was established in 1994.
The 2010 sessions presented by Richard Dolewski that were recognized by COMMON and their members included:
1. Disaster Recovery Primer – Ready, Set, Plan
2. DR Confessions – The Movie
3. Conducting a Best Practices Audit of Your System i and i5/OS
4. Installing a New IBM Release to Your System
"We are proud to have Richard recognized for his commitment to education in the iSeries community," said Tom Hughes, President and CEO of WTS. "Richard's selection to COMMON's Speaker Excellence Hall of Fame demonstrates his dedication to the IBM Power Systems community and the value COMMON members receive by attending business continuity sessions based on his many years of developing disaster recovery solutions. His thorough knowledge of disaster recovery best practices and his detailed iSeries systems recovery experience are invaluable to conference attendees and WTS customers. Richard's business continuity team is well known for delivering reliable disaster recovery services that eliminate the risks associated with equipment readiness, staffing availability, and data access."
Richard Dolewski will be a featured presenter at COMMON's 2010 Fall Conference and Expo in San Antonio, Texas from October 4-6, 2010. More about COMMON's Fall Conference can be found at http://www.common.org/fallconference.
Richard's book titled System i Disaster Recovery Planning is available from MC Press and Amazon.com. Richard and his teams have supported over 18 computer room disaster recovery events and conducted over 250 disaster recovery tests. He is responsible for WTS' portfolio of recovery services including Recovery Plan consulting, iSeries Disaster Recovery solutions, Highly Available Systems, and customized Business Continuity solutions designed for Oracle's JD Edwards software customers.
WTS customers experience greater benefit and value from their operational investments by leveraging WTS' expertly managed IT infrastructure and years of experience in applications management—allowing customers to focus on their core business. WTS achieved its leadership position by focusing on customer satisfaction and delivering advanced technology solutions to companies running IBM's iSeries and xSeries servers.
About WTS
WTS, Inc. is the leading provider of hosting, managed disaster recovery, and IT infrastructure services for Oracle's JD Edwards EnterpriseOne and JD Edwards World products. WTS customers benefit from an industry-leading and proven solution that increases efficiency, enables business and technology change, and reduces IT risk. Founded in 1997, WTS is a privately held corporation with headquarters in Seattle, Washington, a regional office on the Oracle campus in Denver, Colorado, and data centers in Tukwila, Washington and Denver, Colorado. Additional information about WTS is available at http://www.wts.com.
About COMMON
COMMON is the world's largest users group of midrange IBM and IBM-compatible technology. The organization comprises more than 4,000 individual and corporate members. They represent more than 22,000 IT professionals involved with the Power Systems (IBM i, AIX, Linux and related solutions). For more information about COMMON, visit http://www.common.org.
CONTACT:
Ward Quarles
Director, Marketing & Communications
WTS, Inc.
1100 Olive Way, Suite 1100
Seattle, WA 98101
wquarles(at)wts(dot)com
303.996.3410
© 2010 WTS, Inc. All rights reserved. WTS and the WTS logo are trademarks of WTS, Inc. Oracle is a registered trademark of Oracle Corporation and/or its affiliates. IBM, System i and i5/OS are trademarks or registered trademarks of International Business Machines Corp.
###