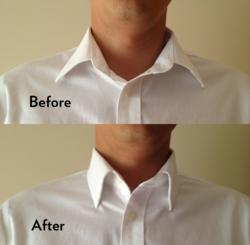 they are the next generation solution to a perfect collar
(PRWEB UK) 14 August 2012
The story of magnetic collar stays began in the U.S. in 2006, when Jonathan Boos received a gift from his wife – an expensive dress shirt. One unassuming evening he decided to put it on to wear for a night out with friends. He could not solve one problem though - how to make his collar stand up and not lay flat on his shoulders. "Of course I was upset - Jonathan said later - despite the fact that the shirt was really nice, with a flared out collar I looked like the flying nun! "
That's when he came up with the concept of magnetic collar stays, combining ordinary paper clips with refrigerator magnets in his garage. However, the basic idea was there and, more importantly, it worked. The collar adjusted exactly to the way he wanted it to look. "Throughout the evening I must have asked my wife, "How does my collar look?" a hundred times. Each time she would say, "It looks the same". Three hours, two Long Island Iced Teas and a Vodka Cranberry later. . . I must say I might not have looked so good, but my collar was perfect!" – Jonathan was joking.
The next morning Jonathan's twin brother supported the idea and together they started the business of producing magnetic collar stiffeners which they named Wurkin Stiffs. Starting with the simplest materials, today they produce high-tech alloy collar stays made with the same material found in aerospace engineering, equipped with tiny magnets that will not only make the collar stiff, but also let you adjust its angle to the way you like. Now called Power Stays™, they are the next generation solution to a perfect looking collar. Moreover, they are now offered in Europe and are gaining a huge popularity.
"Like many other men, I'm sure, I have encountered problems with such a significant piece of clothing as shirt collar. Even the best-quality shirt after the first wash cannot be ironed so that the collar looks perfect. I came across Jonathan's invention in the United States and upon my return to Europe I decided that I must introduce the product to European men "- tells Alex Doroskovs, the president of ALDO STERLING, Ltd. - the official distributor for Würkin Stiffs® in Europe.
According to him, at the "Intertextil Balticum" exhibition the magnetic collar stays aroused a great interest - especially with the diplomatic corps, the shirt manufacturers, as well as women who are often puzzled over what to surprise their husbands or friends with. In addition to magnetic collar stays, Boos also constantly invents and develops many other innovative menswear accessories, including permanent iron-on collar stays for polo shirts, one-piece cufflinks with amazing images and beautiful Italian leather RFID wallets and passport cases. All of them can be found on their website, as well as some stores in Europe.