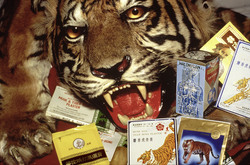 Washington, DC (Vocus) March 5, 2010
World Wildlife Fund (WWF) and TRAFFIC, the wildlife trade monitoring network, will hold a joint media briefing by teleconference on March 8 to discuss pressing species trade issues coming up at the Convention on International Trade in Endangered Species of Wild Fauna and Flora (CITES) meeting in Doha, Qatar, which begins March 13.
In particular this year, WWF and TRAFFIC will encourage CITES Parties to list the Atlantic bluefin tuna on CITES Appendix I -- which bans international commercial trade in the species -- and ask for commitments to end all tiger trade during this Year of the Tiger and beyond.
This 15th Conference of the Parties (CoP15) will consider an unprecedented six proposals for commercially exploited marine species. This is unusual because in the past CITES has focused mainly on terrestrial species.
Elephant ivory trade is a CITES CoP staple and this meeting will see conflicting proposals debated to both relax and tighten controls.
A summary of WWF positions and other media resources can be found at: http://www.worldwildlife.org/media-cites and a summary of TRAFFIC positions and other resources can be found at: http://www.traffic.org/cop15
WHO:
-Dr. Colman O'Criodain Wildlife Trade Analyst, WWF International
-Dr. Sergi Tudela, WWF's Atlantic bluefin tuna expert
-Steve Broad, Executive Director of TRAFFIC International
-Amanda Nickson, Species Program, WWF International
WHEN:
11 am EDT, March 8, 2010
HOW:
To join the teleconference:
Dial 1-866-388-1928 (toll free) or 703-621-9119
Enter: meeting number 701 676 035, password: cites
To join the online meeting, go to:
https://wwf.webex.com/wwf/j.php?ED=139817907&UID=0&PW=NODcwOTM0NTNl&RT=MTYjMjU%3D
Enter your name and email address.
Enter the meeting password: cites.
Click "Join Now."
For callers outside the United States, contact Lee Poston at lee(dot)poston(at)wwfus(dot)org
ABOUT WORLD WILDLIFE FUND
WWF is the world's leading conservation organization, working in 100 countries for nearly half a century. With the support of almost 5 million members worldwide, WWF is dedicated to delivering science-based solutions to preserve the diversity and abundance of life on Earth, halt the degradation of the environment and combat climate change. Visit http://www.worldwildlife.org to learn more.
ABOUT TRAFFIC
TRAFFIC is the world's largest wildlife trade monitoring network and is a joint program of WWF and IUCN. TRAFFIC has provided sound scientific research and guidance to the CITES treaty and CoPs for over 30 years. TRAFFIC, along with IUCN, produces the Analyses of the Proposals to Amend the CITES Appendices at the CoPs. Visit http://www.traffic.org to learn more.
###