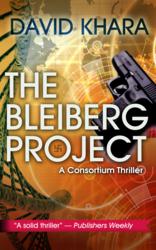 This book kept me completely involved from the first page.
New York, New York (PRWEB) April 30, 2013
Le French Book, a digital-first publisher specializing in top mysteries and thrillers from France, just released an adrenaline-pumping thriller about World War II, its effect on people then and its consequences in the present day.
Are Hitler's atrocities really over? For depressive Wall Street trader Jeremy Corbin, absolute truths become undeniable lies overnight. He finds out his long-lost father is dead, he discovers his boss's real identity, and he ends up boarding a plane to Zurich. He has a Nazi medallion in his pocket, a hot CIA bodyguard next to him, and a clearly dangerous Mossad agent on his tail. What was his father investigating? Why was his mother assassinated? Why are unknown sides fighting over him with automatic weapons? Can the conspiracy be stopped?
This fast-paced thriller full of humor and humanity was an instant sensation in France. It's like a dash of Robin Cook, a splash of John Grisham, and a pinch of Clive Cussler combined into a unique experience with a very distinctive voice all its own.
It is the first of a trilogy that is about hope and paying tribute to all victims of war and to people who were deported. "All the characters were based on survivors' testimonials," the author David Khara says. "Everything is factually based, although I do speculate with 'what if?'"
Khara adds, "The idea of The Project Bleiberg came to me after hearing the testimony of a woman who survived the death camps. Three things struck me during the interview. The first one was her sharp sense of humor. She said that prisoners inside the camp made jokes whenever they could. Humanity cannot be destroyed as long as laughter is possible. It becomes an act of resistance. The second thing was her will to survive, no matter the obstacles, no matter the horrors she would have to go through. And finally, she was the living proof that to remember and understand history is the best, and maybe the only way, to avoid some mistakes being made again. The book tries to honor these three points."
Top author and blockbuster translator
French author David Khara, a former journalist, top-level athlete, and entrepreneur, is a full-time writer. Khara wrote his first novel—a vampire thriller—in 2010, before starting his Consortium thriller series. The first in the series, The Bleiberg Project, was an instant success in France, catapulting Khara into the ranks of France's top thriller writers.
Translator Simon John was born in the United Kingdom. After graduating from Cambridge University, he stage-managed and produced theatre for two years. A quest for wine, women and goat cheese led him to Paris, where he began working in film production and translation. While his focus has been on translating and subtitling movies, such as Michael Haneke's Palme d'Or-winner Love and blockbusters Taken 1 & 2, Simon has also translated for Yasmina Réza, the art magazine L'Officiel Art and gardening manuals. After twenty fertile years and 3,713 goat cheese salads in Paris, he is now based in Berlin.
Praise for The Bleiberg Project

Blue Moon Award for Best Thriller
Over 100,000 copies sold
"A solid thriller." –Publishers Weekly
"A phenomenon." –Gérard Collard, TV host, France 5
"Fascinating, written with a sharp style, shock value and a lot of humor" – Serge Perraud, literary critic
"The suspense is incredible… Khara did his research and used it to weave a tale so believable you'll find yourself shuddering because it could be happening right now." – Criminalelement.com
"This is a great translation, nicely catching the rhythms of US English and developing considerable narrative drive as we quickly get into the action." – Thinking about Books
Online media tools available here..
The Bleiberg Project, by David Khara; translated by Simon John — $7.99 — published by Le French Book — ISBN: 978-0-9853206-9-0 (Kindle)/ 978-1-939474-99-5 (epub) — First published in French (Le Projet Bleiberg, Les Editions Critic) — Direct-to-digital translation; ebook exclusive; available at all major ebook outlets. Release date: April 30, 2013.
About Le French Book
Le French Book (http://www.lefrenchbook.com) is a New York-based digital-first publisher specialized in great reads from France. It was founded in December 2011 because, as founder Anne Trager says, "There is a very vibrant, creative culture in France, and the recent explosion in e-reader ownership provides a perfect medium to introduce readers to some of these fantastic French authors." Anne has lived in France more than half of her life, has many years of experience in the translation business and in publishing. Co-founder Fabrice Neuman is French and the company's tech consultant. He is one of France's foremost proponents of e-books and one of the first French journalists to write about them in the mid-1990s. The core team also includes the American translation editor Amy Richards, who is based in Ohio and has a long, award-winning career in writing and editing.
©2013 Le French Book, Inc. All rights reserved. Information is subject to change without notice.