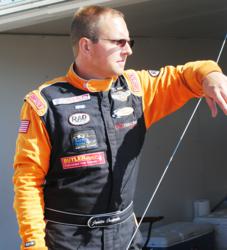 It feels good to get our first win out of the way, and I think it's a sign of things to come.
Justin Onderko, driver of the OC2interactive/Onderko Motorsports #131
Nazareth, PA (PRWEB) June 20, 2012
Onderko Motorsports, the Nazareth, PA based race team rolled into Summit Point, West Virginia for the National Auto Sport Association's largest event of 2012, aptly named "Hyperfest". Professional road racers as well as amateur drivers attend this event each year. The National Auto Sport Association had a great line-up of events for the fans as well, including a concert, and drifting exhibitions.
Driving the OC2interactive/Onderko Motorsports #131, Justin Onderko enthusiastically commented on the weekend's event, "I am really proud of my whole team. This was our first race this season, and everyone came together really well. The car was fantastic - well balanced and was really quick. It feels good to get our first win out of the way, and I think it's a sign of things to come. I especially want to thank OC2interactive for coming on board. We announced it last week, and I believe the partnership is off to a great start. I had a blast down at Summit Point Raceway, and look forward to racing there again in the future. I can't wait for Pocono, it's kind of a homecoming for me - it was the first road course I ever ran."
Team Owner Michael Onderko provided these remarks about how his team performed over this past weekend, "I was extremely pleased with Justin and his efforts behind the wheel. In my opinion, it showed just what he has to offer this sport. Getting one win is hard enough to do, but doing it your first time out is certainly a credit to Justin as a driver and the team for preparing a fast race car. The changes we made Sunday morning were right on target. I think with more testing we can continue to keep the OC2interactive/Onderko Motorsports in the winner's circle." Onderko concluded, "We are also very excited to be heading to Pocono International Raceway in mid-July for the next National Auto Sport Association Northeast event. This is back in our home state and we should have many of our fans at the track."
About Onderko Motorsports –
Onderko Motorsports, LLC is a professional road race team based in Nazareth, PA. It was developed in 2009 and in 2010 won the SVS Asphalt Late Model Championship. The Onderko Motorsports organization plays a major role in the Race Against Drugs program promoting a drug free and healthy lifestyle. Race Against Drugs, along with the Stay on Track program are part of the National Center for Research and Prevention Solutions initiatives to foster and help our nation's children fight against drugs by providing them positive role models to look up to. Justin Onderko was awarded the 2011 Spokesperson of the Year Award at the Performance Racing Industry Trade Show in Orlando, FL.
Onderko Motorsports provides unique opportunities for its sponsors by branding their name with a winning race team and a positive role model for our nation's children.
For more information on Onderko Motorsports and the marketing/branding opportunities they can provide please contact them at onderko_motorsports(at)verizon(dot)net