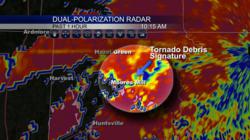 "Audiences are incredibly loyal to broadcasters who give them accurate, immediate information that they can act on."
-Bill Boss, VP-Media Solutions, Weather Central
Madison, WI (PRWEB) March 28, 2012
Weather Central, makers of the most viewed weather system in the world, today announced that its ESP:LIVE™ severe weather system has been enhanced to support new dual-polarization weather radar technology. This groundbreaking new presentation tool will be on display at NAB 2012 in Booth SL3911. With precise display of damaging hail, debris in tornadoes, improved flash flood warnings, and more accurate identification of winter precipitation, ESP:LIVE with dual-polarization radar support enables meteorologists to better inform and alert their viewers when severe weather strikes.
A comprehensive look at dual-polarization radar technology and its impact on severe weather reporting can be found at http://wxcblog.wordpress.com/. Dual-polarization radar is currently being deployed by the National Weather Service throughout the United States.
"Informing and protecting viewers from severe weather is one of a broadcaster's most vital functions," said Bill Boss, VP-Media Solutions at Weather Central. "Audiences are incredibly loyal to broadcasters who give them accurate, immediate information that they can act on. Meteorologists at hundreds of broadcast stations depend on ESP:LIVE to help make that happen. Dual-pol radar adds even greater depth to the industry's leading radar display toolset."
ESP:LIVE severe weather system gives broadcasters the tools, accuracy and compelling look needed to drive ratings and meet their commitment to informing and protecting their viewers. Hyper-local mapping, the most advanced storm tracking algorithms, interactive data display capability, and a suite of exclusive tools enable meteorologists to give viewers what they need, when they need it. Other enhancements to ESP:LIVE include:

X-Vision data—enables meteorologists to present vertical slices of a storm's structure in 3D and animate the slices over time to show storm details in unique new ways
Industry-leading radar display technology including: velocity scope for live radar and looping level 2 data
Display of Terminal Doppler Weather Radar (TDWR) – these radars provide higher resolution and more rapidly updating radar data near major metropolitan airports for faster severe weather warnings
Integrated posting to a station's Facebook and Twitter pages
For a complete look at Weather Central's solutions visit http://www.wxc.com.
About Weather Central, LP Weather Central, LP, founded in 1974 by broadcasters and meteorologists based in Madison, Wisconsin, is the leading provider of professional on‐air, online, print, mobile and enterprise weather solutions and forecasting in North America and to major customers worldwide. Utilizing the Company's dynamic weather graphics, precise forecast models and data, and patented technology, more than 1000 partners and hundreds of millions of consumers worldwide benefit from Weather Central's attention to weather presentation, detail and insight.
© 2012 Weather Central, LP, Madison, Wis. All rights reserved. Product specifications and availability are subject to change without notice. Weather Central LP, :LIVE, GENESIS:LIVE, 3D:LIVE, ESP:LIVE, Weather Central MagicTRAK, LiveLine GENESIS, A.D.O.N.I.S. MicroCast, A.D.O.N.I.S. FutureCast, StormSentinel DV, WxWarn2, ScreenWRITER, SportsWRITER, SimulCAST, X‐Vision, Storm Vitals, TelePath, RainVision, SnowVision, FunnelPATH, CellPATH, HailZONE, GustZONE, MessoPATH, Always‐On Training, Instant Mapping and WxPoint are either registered trademarks or trademarks of Weather Central LP.
All other trademarks contained herein are the property of their respective owners.