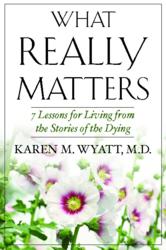 This book is a tribute to those who generously taught the lessons of life and death.
Silverthorne, CO (PRWEB) December 09, 2011
The Book Club Radio Program of Tan Talk Radio in Tampa, Florida has invited Dr. Karen Wyatt to appear as a guest speaker on the show to discuss her new book, "What Really Matters: 7 Lessons for Living from the Stories of the Dying." The interview will be broadcast from the radio station and streamed live over the internet on December 13, 2011 at 9:00 am EST.
Dr. Karen Wyatt understands the process of dying and the emotional and spiritual challenges it poses better than most people. After 25 years of medical practice as a hospice and family physician she has accompanied countless patients and families through this final passage and has learned valuable guidance about the journey of life from that perspective.
Her book "What Really Matters" tells the stories of several patients and their families as they approached death and details the life lessons that were learned through that process. In addition the book provides a discussion about those lessons and how every reader can apply them to their own lives and find new meaning and purpose in their existence.
The radio interview will be conducted by host John Austin who wrote, after reading the book, "We have many very good books on the program, but it is rare that we have one that is as important as yours. If I could, I would make your book mandatory reading for everyone over 40."
To listen to the radio program, tune in to station WTAN-AM 1340 in the Tampa area or KLRG-AM 880 in Little Rock, Arkansas on December 13th at 9:00 am EST. Live streaming will be available online at http://www.tantalk1340.com as well as a recorded podcast version for listening at a later time.
###