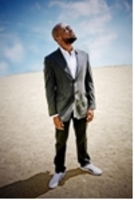 Cheated (To All The Girls)
New York, New York (PRWEB) February 6, 2008
Calling all Wyclef Jean fans: Win a signed guitar from Haiti's hottest export when you sign up for his online merchandise store on Shopit!
Jean has joined forces with Shopit, the world's first and largest peer-to-peer social commerce network, to offer fans exclusive access to limited edition merchandise.
Beginning January 20, 2008, fans who register for Shopit and join Wyclef Jean's network will be entered to win a guitar signed by the man himself! In addition, fans visiting Wyclef Jean's Shopit store (http://www.shopit.com/wyclef) will find some of his personal items for sale, including a signed vinyl copy of Jean's single "Cheated (To All The Girls)" from his Wyclef Presents the Carnival Featuring the Refugee All-Stars.
Fans who grab Wyclef's Shopit Widget from his profile and post it into their own social networking profiles will double their chances of winning the signed guitar! They simply need to click on the "Grab" button of the widget anywhere they find it, and then email the URL where they've posted it to wyclefshopit@gmail.com. Once verified, they will gain an extra contest entry.
One of the places where you can see Wyclef Jean's Shopit Widget in action is the Zude network -- (http://www.zude.com/shopit). "Our partnership with Shopit lets Zude play a vital role in helping anyone create an e-commerce website," said Brian Young, SVP, Business Development of 5g. "Combining the power of Zude's social computing platform with Shopit's ease-of-use, we are giving small businesses, retailers, and individuals the power to sell nearly anything through an e-commerce website and extend the reach of artists like Wyclef."
Related links:
http://www.shopit.com
http://www.shopit.com/wyclef
http://www.zude.com/shopit
About Shopit
Shopit is the fastest growing Free Social eCommerce Network on the web. Shopit gives its members a free web storefront, free flash widgets and a set of free networking tools to promote, sell or trade their products and services. Members create their own catalog, then use Shopit to mass syndicate it by embedding widgets and applications into the most popular online communities, blogs, e-mails and instant messages.
About Fifth Generation Systems, Inc. (5g)
Fifth Generation Systems, Inc. (5g) is a Roslyn Heights, New York-based company whose mission is to give everyone a voice on the Web.
The company's Web 2.0 application, Zude, is a new social computing platform offering users an unprecedented level of freedom and design customization. Using an endless supply of free web pages, groundbreaking drag-and-drop technology and a complete set of social networking features, users can create a media-rich website experience to share with the world.
Media Contact:
Cameron Casey
Shopit.com
310-987-7970
E-mail: cam@shopit.com
# # #