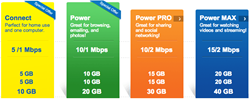 Satellite Speeds.com now offers Wyoming residents the option to purchase a high speed Internet and unlimited phone calling service bundle saving 25% to 35% on their phone and Internet bill.
Cheyenne, Wyoming (PRWEB) October 02, 2013
Satellite Speeds.com (http://www.satellitespeeds.com), the leader in satellite Internet technology in WY, is pleased to announce that it now offers ways to access online entertainment that can be downloaded rapidly and securely by using its latest satellite internet plans to all counties and homes in Wyoming. Details of the amazing and affordable internet service which offers large download capacities and unlimited local and long distance calling plans can be found on the company website.
Benefits of Wyoming Satellite High Speed Satellite Internet:

Download Speeds up to 15 Mbps
Upload Speeds up to 2 Mbps
Faster Than DSL and Most Cable Providers in Wyoming
Available Almost Anywhere in Wyoming Where Cable and DSL Are Not
Unlimited Phone Calls throughout US and Canada
Does Not Need a Phone Landline
Low Monthly Rate
And much more...
Ron Legarski, a spokesperson for Satellite Speeds.com says, "The future of entertainment is in streaming video and online access to movies, television shows and the whole world of music. In order to be able to access the complete spectrum of entertainment, today's consumer needs fast, reliable, Internet connections in Wyoming that have the power to deliver this entertainment without interruption. Nobody wants to get to a critical part of the movie and have their video stream slow down, or worse still, stop altogether."
"Through this service, Satellite Speeds offers three levels of Bandwidth throughout Wyoming with the Gen4 Voice and larger Bandwidth up to 15Mbps download capacity, which offers tremendous download capacities for hours of enjoyment. "This download capacity combined with great signal strength delivers reliable, uninterrupted streaming of video and music," says Legarski.
Three plans vary in their monthly data allowances but each offers outstanding capability. The maximum 20 GB download per month plan offers 30 hours of standard definition Netflix movies and shows, 5000 high quality iTunes song downloads and 2000 high-resolution photos. Information about the latest Gen4 technology, available systems and current plans can be found at Satellite Speeds.com. Details about the newest Gen4 technology, including special offers for the Power plan, are easily accessible. The website offers a way for each consumer to determine the plan that best fits their needs. Ordering satellite Broadband Internet service in Wyoming can be done online or by calling (877) 247-5156.
The satellite Internet plans on offer are all delivered by via the Gen4 technology.
Wyoming Satellite Internet service is now available in the following WY counties:
Albany County, Big Horn County, Campbell County, Carbon County, Converse County, Crook County, Fremont County, Goshen County, Hot Springs County, Johnson County, Laramie County, Lincoln County, Natrona County, Niobrara County, Park County, Platte County,Sheridan County, Sublette County, Sweetwater County, Teton County, Uinta County,Washakie County, and Weston County.
For more information on the coverage area for Satellite Internet, please visit:
http://www.satelliteinternetplans.co/wyoming
The Gen4 is their 4th generation Wyoming high-speed satellite Internet service, offering improved performance and higher Bandwidth in keeping with the increased needs of consumers, who want easy and reliable access to the world of online entertainment.
"Not only do we offer our customers great access to digital entertainment, we do so at affordable prices and with great customer service," says the Wyoming satellite retailer.
Satellite Speeds is a satellite Internet retailer in Wyoming of the latest HughesNet Gen4 technology offering fast, secure and powerful service for all locations including rural and remote areas. Satellite Speeds also offers satellite internet wireless and unlimited phone service and calling plans, with free premium features such as call waiting, forwarding to multiple phones, caller ID, enhanced voicemail with remote access and unlimited calling in the domestic United States and Canada.
For more information on satellite Internet and phone service providers, please call toll free and speak with a representative today at 1-877-247-5156 or by visiting:
http://www.satelliteinternetplans.com