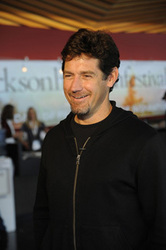 I was surprised and honored to receive this recognition. It's exciting to find out my work seems to be heading down the right path
(Vocus) June 10, 2008
Short films about a woman who makes art out of bugs, a look at surfing on the Snake River, and profiles of ski makers and kite enthusiasts secured first prize for David Gonzales of Jackson as winner of the first Wyoming Short Film Contest. Gonzales accepted the honor in a ceremony last night at the Jackson Hole Film Festival. "I was surprised and honored to receive this recognition. It's exciting to find out my work seems to be heading down the right path," Gonzales said. He will be awarded $25,000 from the Wyoming Film Office.
"We started this contest to help promote filming in Wyoming. One of the requirements was that the storyline had to be about Wyoming somehow and David's work was judged by a panel of Wyoming people with a wide variety of production experience," noted Michell Howard, film office manager. Gonzales' features were premiered in Jackson yesterday. The prize money will go toward production of his next film which will be shot in the state. Howard says the state film office received more submissions than anticipated. "We were pleased with the response and the quality of the films," she added.
Gonzales studied screen writing in college and began his working life as a writer for the Dallas Morning News. He spent many years writing travel articles and as a still photographer. "If the way that we're transmitting all our information these days in online then it seems like you should be trying to use the full extent of the computer's and the Internet's capability to communicate your message – and that's really video," he said. Gonzales believes he could make a full-length feature film using the prize money from the state. "I didn't realize what the film office was doing to boost our work. It is greatly appreciated."
Howard said the Jackson Hole Film Institute worked in partnership with her office to host classes for grip and electrical workers during the event this past week. "We have to build more of a crew base – an infrastructure. If Wyoming is going to get more film projects local resources are essential," she said.
The main attraction for filmmakers is Wyoming's recently instituted film incentive program which offers up to a fifteen percent rebate on production dollars spent in the state if a minimum of $500,000 is budgeted for a project. "The legislature believed in what we wanted to do. We were losing a lot of production to other states and countries, like Canada, and if Wyoming was going to gain back lost ground we had to level the playing field," Howard asserted.
The short film winners are going to be available for pubic viewing on the state tourism website – http://www.wyomingtourism.org later this week.
###