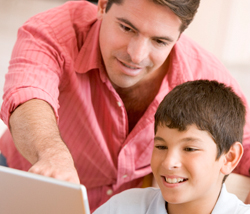 We believe every student deserves access to a quality education.
Chicago, IL (PRWEB) December 07, 2011
Less than one year after announcing plans to develop a platform for volunteer tutors, WyzAnt, Inc. has launched a non-profit called WyzAid, and students in the Chicago area are already reaping the benefits.
WyzAnt.com is a Chicago based company that uses internet technology to help millions of students and parents find qualified, local tutors in all fifty states. Last January, WyzAnt CEO Andrew Geant announced his intentions to use what he and co-founder Michael Weishuhn have learned building WyzAnt to create a non-profit organization that would grant deserving students free access to quality tutors.
"We believe every student deserves access to a quality education, but unfortunately, many students cannot afford the supplemental help they need," says Geant. "Our tutors share that belief and have made WyzAid a reality by volunteering their time to work with students who otherwise would not have access to personalized instruction."
The Illinois Education Foundation (IEF) also believes that quality education should be available to motivated students, and in September, the nonprofit began partnering with WyzAid to help fill their tutoring needs. The IEF empowers low-income, highly motivated community college students to succeed in work, school, and life. The IEF provides its scholars with comprehensive student supports which help ensure that they achieve their degrees and reach their full potential.
"The Illinois Education Foundation was founded under the principal that given the right resources, motivated students can achieve success in their academic, professional and personal lives," said IEF Program Manager Nina Sanchez. "Tutoring is one of the resources we offer our students which helps them achieve their goals."
WyzAid is currently providing IEF with English tutors and Math tutors who work with community college students one to two times per week. Geant is optimistic about WyzAid's outlook and the impact it could have. "Our work so far has proven two things: first, there are countless organizations like The IEF that have an urgent need for private tutors, and second, many excellent tutors are willing to donate their time when they know their efforts are making a difference. WyzAid seeks to mobilize these tutors using technology, ultimately on a large, national scale."
"Tutoring my two college students is very rewarding for me," said one WyzAid tutor working with IEF students. "I feel [my students] need a tutor on many levels, and I'm more than convinced that I'm doing something extremely worthwhile with my time."
The WyzAid web platform will be available to qualifying organizations in early 2012. By partnering with top-tier non-profit organizations, WyzAid aims to help students of all backgrounds experience the benefits of private tutoring.
# # #