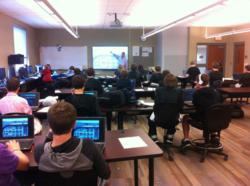 "Fly To Learn is the educational component that uses X-Plane to teach S.T.E.M. Education in the classroom," remarks Austin Meyer, X-Plane Founder.
Jacksonville, FL (PRWEB) May 09, 2012
Captain Judy Rice of Think Global Flight, X-Plane Founder Austin Meyer and Randy Witt of Fly to Learn have created an alliance to bring S.T.E.M. Education to students worldwide.
ThinkGlobalFlight.org is a non-profit effort to promote Science, Technology, Engineering and Math (S.T.E.M) education, aviation and aerospace through the adventure of an around-the-world flight, taking off in the Fall of 2013 from Honolulu, Hawaii. The students will engage in educational challenges developed by Fly To Learn, found within Think Global Flight's Student Command Centers.
Think Global Flight's Captain, Judy Rice, will be flying a Cirrus SR20 G3 complete with the Garmin Perspective. The aircraft was donated for the around the world flight by Guidance Aviation of Prescott, Arizona.