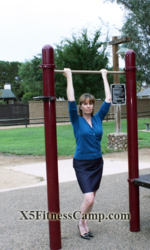 "Awareness helps us see the continuity of life and the connections between our various activities in life." - Vishy Dadsetan
San Diego, CA (PRWEB) August 30, 2012
Vishy Dadsetan, the owner of X5 Fitness Camp, a personal & small-group training center in San Diego, CA releases Awareness – A Key To Pain Prevention and Management Video Series.
These instructional video series teach a successful five-step planning process of pain prevention and pain management beginning with mind-body awareness.
"Fitness clients bring years of core beliefs and muscle memory to their workouts," says Dadsetan. "Often they have trained themselves to compensate for various types of knee, low back and shoulder injury. Their belief system and muscle memory is hurting them. They believe that they should accept and power through what they consider to be 'normal' pain. I want them to understand that pain is not normal, and they can have pain-free motion."
The goal of Awareness – A Key To Pain Prevention and Management Video Series is to help viewers walk through the five-step planning process of, awareness, focus, freedom, strength and balance.
"Low back pain and shoulder pain are two of the most common complaints," Dadsetan explains. "In most cases, clients have various muscle imbalances starting at their point of contact with the ground and their calves. These imbalances continue through their knees and lower back all the way up to their shoulder blades and the base of their skull. X5 Fitness Camp Pain Prevention and Management Video Series provide a systematic way to address and help clients be aware of these imbalances and correct them."
"I came to X5 with a knee and a shoulder injury. I could only squat down for a few inches because of the knee injury, and I could only raise my hand to just below my shoulder height because of the shoulder injury," recalls Jennifer Snodgrass, one of X5 Fitness Camp clients. "Fast-forward to now. I can do full kettlebell squats, TRX single leg squats, kettlebell shoulder press and dozens of other exercises effortlessly."
In the first video session of the series, Dadsetan takes clients through a foot to head, joint-by-joint motion and pain evaluation. Clients learn, often for the first time, to become aware of their mental interaction with their own body. They learn to pay attention to what they are asking their body to do, how their body is responding to their requests and how they can modify their instructions to their body for pain-free performance.
You can watch a video recording of this session at the link below: http://x5fitnesscamp.com/exercise-tips/1995/fitness-personal-training-san-diego.html
"Life is a single continuous experience," describes Dadsetan. "Awareness helps us see the continuity of life and the connections between our activities, including weight loss and pain management."
X5 training provides a systematic, step-by-step process for clients to expand their awareness and recognize connections between their deeper qualities, their thoughts, their actions and their experiences.
"Expansion of awareness is a necessary step in achieving goals built on more pleasant experiences of life," describes Dadsetan.
For more information on Awareness – A Key To Pain Prevention and Management Video, visit http://x5fitnesscamp.com or contact Vishy Dadsetan at (877) 348-6873.