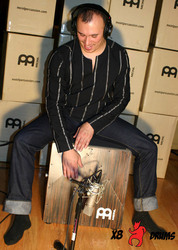 Jersey City, NJ (PRWEB) September 2, 2009
Whether your look is flashy or flowery, X8Drums.com has a Meinl Cajon drum for you. The cajon drum is impressive in it's musical versatility, and will have you beating out rock, pop, or jazz in no time flat. For use with your hands, jazz brushes or even your feet, Meinl Cajons are the recommended cajon brand by the staff at X8Drums.com, with models available for everyone from beginning percussionists to seasoned professionals.
X8Drums.com offers the entire line of Meinl Cajons; a total of 29 different styles to choose from. As you scroll through each drum, you are offered a high definition video that will demonstrate the tones and range of each cajon. You can choose the Snare Cajon with adjustable snare wires, a String Cajon with internal wires that vibrate for a 'sizzle' effect, or even a flashy Headliner Cajon in a skull pattern. The choice of drum may be difficult for you, but when you do find the perfect match, the ease of play and range of this instrument will have you performing in all sorts of musical environments.
X8Drums.com is committed to providing their customers with a high quality website that provides not only written information, but also visuals that will allow the shopper to replicate the experience of actually purchasing in person.
Premium audio samples and high definition videos, produced by X8 Drums & Percussion, Inc., feature performances by New York Percussionist Jimmy Lopez on every Meinl Cajon model providing site visitors with a true taste of each drum and the ability to compare the tonal differences between the various models. When you buy your drum from X8Drums.com, you know exactly what your new purchase looks and sounds like.
The video demonstrations also provide a variety of cajon rhythms that beginners can learn for free. Some of the cajon drum patterns demonstrated include Reggae One Drop, Arabic belly dance feel, West African 6/8 rhythm, rock beats and Brazilian batucada feel.
About X8 Drums & Percussion, Inc.:
X8Drums.com is the premier online store for all things hand drums. Percussionists from around the world come to X8 Drums for personal expert advice when purchasing a djembe, cajon, congas, and bongos. Visitors have access video and audio samples of products, how to videos, and up to date information on the world of drumming.
###