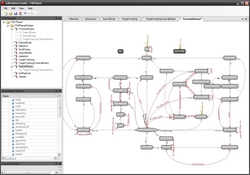 Saarbrücken/Quierschied, Germany (PRWEB) August 12, 2009
xaitment GmbH, one of the leading developers and service providers of artificial intelligence (AI) for the games and simulation industries, today announced the release of a new version of its AI game tool xaitControl 2.5. The updated version follows on the heels of the recently announced xaitMap 2.5, and offers new functionalities such as a new graph renderer with zoomable view, a new environment window/manager, more library functionalities and easier navigation for improved usability.
With xaitControl 2.5, users can create complex behaviors to which they can add a high degree of unpredictability by using random numbers. This adds an even higher level of realism to the behaviors of their NPCs. The character behaviors are defined by data driven, hierarchical, probabilistic Finite State Machines (FSMs). Instead of using complex source code to define these FSMs, xaitControl enables users to create them simply in a graphical interface, saving developers time and making it easier for game designers and programmers to create character behaviors that enhance gameplay. What's more, user-specified variables and call-back functions in the pre-conditions and post-commands of any transition, as well as individually defined events and probabilities, give developers even more flexibility with, and control of, the game design.
Highlights of the xaitControl 2.5 AI game tool include:

New graph renderer with zoomable view: The screen in which all FSMs are created is now infinite. Users can zoom in and out and move it in any direction.
New environment window/manager: This feature allows users to define and to administer events (messages from an application resulting in changed conditions in a FSM), variables and functions easier and faster.
Functions as preconditions: In addition to Boolean operations, call-back functions can now be used as preconditions in a transition.
Support of container data types: This allows the construction of vector-like container data types and the use of various methods, such as GetElement, SetElement etc., on the container's elements.
Supports function overloads: The same function can be used in FSMs with a different number of parameters.
Debugging: xaitControl offers improved and more elaborate support for debugging.
Like all game tools available from xaitment, xaitControl 2.5 is available as a stand-alone module and in combination with all of xaitment's game tools. It integrates seamlessly with many world-class game technologies, and can be integrated into any existing development environment within 24 hours. Custom-tailored license-based models, integration and training services are available.
For more information, visit http://www.xaitment.com.
About xaitment GmbH
A partner of the German Research Center for Artificial Intelligence, xaitment has served customers with AI and game design tools since 2004. Their mission - to create lifelike AI for games and simulations - led to the development of the xaitment AI game tools: highly customizable and highly modular development solutions that save production costs while helping development teams effectively reach their creative potential. For more information about xaitment and the AI game tools, visit http://www.xaitment.com.
###