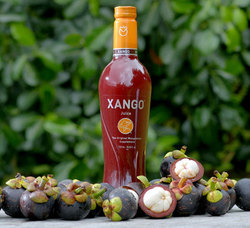 In creating a new global category, XanGo introduced a bottle image that is now cast as one of the world's most recognized nutrition brands
Las Vegas, NV (PRWEB) May 6, 2008
The Glass Packaging Institute today honored global nutritional leader XanGo, LLC with its 2008 Clear Choice Award for the category-creating iconic bottle design of XanGo Juice. Chief Marketing Officer John Digles accepted the award at the Food Marketing Institute (FMI) Show in Las Vegas. XanGo was honored among some of the world's most renowned beverage brands.
"In creating a new global category, XanGo introduced a bottle image that is now cast as one of the world's most recognized nutrition brands," said Digles. "We thank the Glass Packaging Institute for this honor. And special thanks to nearly a million XanGo distributors worldwide for establishing the XanGo Juice bottle as a global symbol of wellness and prosperity."
In accepting the award, XanGo also recognized Anchor Glass Container Corporation, the company's global bottle manufacturing partner.
Each year since 1989, the Glass Packaging Institute has honored consumer product goods manufacturers that expand the frontiers of glass packaging design by using glass containers in innovative ways. The only awards program that recognizes the contribution glass packaging makes to the image and success of everyday products, the Clear Choice Awards are presented to products that triumph in glass.
Since the first sale of XanGo Juice in the fall of 2002, the original mangosteen dietary supplement has been packaged with a custom glass bottle design that reinforces its premium brand status and is consistent with its delivery as a natural, great tasting whole fruit supplement.
###