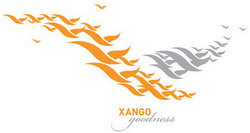 It is with great honor that we accept this award on behalf of our distributors, employees and partners around the world who join us in making the XanGo Goodness movement possible
Lehi, UT (PRWEB) January 26, 2008
Global nutritionals leader XanGo, LLC, received Virgo Publishing's inaugural "Focus on the Future" Humanitarian Award for its support of XanGo Goodness. Since the company's founding in 2002, XanGo has contributed to global humanitarian causes that benefit children and families in need.
In presenting XanGo with its Humanitarian Award, Virgo Publishing recognized the company for making significant contributions to the betterment of the community through charitable and public service work. XanGo co-founder and President of Sales and Marketing Gordon Morton, who started XanGo's charitable giving by making a company donation before turning the first profit, thanked Virgo Publishing for recognizing what continues to be a major area of focus for the company and its distributors and employees.
"It is with great honor that we accept this award on behalf of our distributors, employees and partners around the world who join us in making the XanGo Goodness movement possible," said Morton. "XanGo is pleased to be making a difference by focusing on successful outcomes that benefit those at risk or in need both at home and abroad."
XanGo Goodness is a global mission to raise social consciousness and mobilize XanGo's global resources to serve, support and improve communities in need. Driven by action, XanGo encourages its partners to roll up their sleeves and get involved. XanGo Goodness transcends mere "check-writing" - it is focused on improving outcomes.
XanGo staff and distributors participate in XanGo Goodness by giving their time and money to help in sustainable humanitarian efforts, medical expeditions, volunteer programs, community health education and on advisory boards. A significant portion of company profits are donated each year to XanGo Goodness.
In addition to ongoing charitable efforts in markets where it does business, XanGo also supports relief efforts around the world. Examples of this work include helping rebuild a village devastated by the tsunami in Thailand, supporting cleft-lip and cleft-palate corrective surgeries in Mexico, sending medical expeditions to Africa and South America, and helping to rebuild community centers and sports fields in New Orleans after Hurricane Katrina.
In October 2007, XanGo introduced the XanGo Goodness Meal Pack, an innovative product formulation designed to treat the severely malnourished in impoverished, famined and war-torn regions of the world. Distributed as a dry powder, the Meal Pack provides essential life-saving nutrients to those on the brink of starvation by simply adding water.
Kent Wood, XanGo's co-founder and president, received the award during Virgo Publishing's Focus on the Future 2008 dinner in Scottsdale, AZ on January 22, 2008.
About XanGo Goodness
XanGo Goodness is a worldwide cause-related effort that mobilizes XanGo's global resources to better the lives of others through our philanthropic action. We participate by giving our time and money to sustainable humanitarian efforts, medical expeditions, volunteer programs, community health education and advisory board service in an effort to serve and support children, families and communities in need. XanGo Goodness advocates the philosophy that participating in cause-related ventures enriches the human experience. To learn more about XanGo Goodness or become part of the XanGo giving community, please visit http://www.xangogoodness.org
About XanGo
XanGo, LLC is a recognized category creator as the first company to market a premium mangosteen beverage, XanGo® Juice, to consumers worldwide. XanGo continues to lead the category by driving the research, development and advancement of functional mangosteen products. Based in Utah, XanGo is privately owned and powered by a global network of independent distributors. XanGo's expansive operations include the U.S. and numerous international markets such as Canada, Mexico, Japan, Germany and Malaysia. For more information on XanGo, visit http://www.xango.com
###