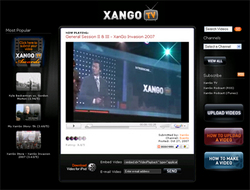 XanGo.TV is designed to achieve an elite level of brand intimacy. XanGo is a lifestyle brand. Our business is built on distributors and consumers sharing their personal experiences with XanGo and our nutritional products. XanGo.TV offers a visually captivating platform for those narratives and gives viewers a behind-the-scenes look into the company
Lehi, UT (PRWEB) October 31, 2007
Global nutritionals leader XanGo, LLC today blazed another trail for consumer brands and direct selling with the launch of XanGo.TV a brand-centric video sharing site broadcasting real-life stories, insights and experiences from millions of distributors and consumers worldwide.
"XanGo.TV is designed to achieve an elite level of brand intimacy. XanGo is a lifestyle brand. Our business is built on distributors and consumers sharing their personal experiences with XanGo and our nutritional products. XanGo.TV offers a visually captivating platform for those narratives and gives viewers a behind-the-scenes look into the company," said XanGo Chief Marketing Officer John Digles.
Hosting a library of videos and podcasts from XanGo's first five years, XanGo.TV chronicles the company's genesis as a category-creator to its advent as an evolving global billion-dollar brand. Episodes posted on the site come from XanGo's international markets, including the U.S., Canada, Germany and Japan.
"XanGo.TV provides an unprecedented view into XanGo's direct selling business opportunity. Viewers can see the personalities and personal service dynamics at work as distributors show how they build their own XanGo businesses," said Digles.
XanGo.TV offers a full lineup of Channels, including:

Lifestyle - Airs actual distributor and consumer stories on how XanGo has changed their lives.
Goodness - Documents XanGo's global philanthropic movement including segments on rebuilding a coast of Thailand village after the 2004 tsunami.
Sports - Highlights XanGo's historic jersey-front sponsorship with MLS franchise Real Salt Lake, the first deal of its kind in U.S. pro sports.
Training - Broadcasts business-building tips and professional coaching from XanGo leaders on topics like recruitment, retention and profitability.
Events - Covers local, national and international XanGo events including openings from Mexico to Australia to Malaysia.
Contests - Watch as distributors participate in business-building promotions and compete for top prizes like a Porsche Boxster.
Variety - Tour XanGo's offices around the world and tune in to see company founders win Ernst and Young's Entrepreneur of the Year Award.
Viewers can embed, download and email videos from the program lineup. XanGo.TV provides video tutorials for visitors to produce, edit and upload their own video creations to the site.
Digles said upcoming XanGo.TV episodes will present the latest scientific findings on the mangosteen fruit as well as research into XanGo Juice and the proprietary mangosteen and aloe formula in XALO Juice.
With the launch of the video-sharing site, XanGo announced the XanGo.TV Awards, which will recognize the best videos submitted to the site with prizes in an online awards show in February 2008. For awards competition details, visit http://www.XanGo.TV.
About XanGo
XanGo, LLC is a recognized category creator as the first company to market a premium mangosteen beverage, XanGo® Juice, to consumers worldwide. XanGo continues to lead the category by driving the research, development and advancement of functional mangosteen products. Based in Utah, XanGo is privately owned and powered by a global network of independent distributors. XanGo's expansive operations include the U.S. and numerous international markets such as Canada, Mexico, Japan, Germany and Malaysia. For more information on XanGo, visit http://www.xango.com.
# # #