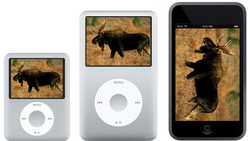 We saw the direction of on-line videos years ago and wanted to get a foot in the door in order to stay on the cutting edge of video distribution."
Manti, UT (PRWEB) May 10, 2010
Xbandits, an on-line video web site, officially launched their site to the public today. Beginning today, consumers around the globe can go to Xbandits (http://www.xbandits.com/ ) to watch a large selection of popular hunting videos ranging from current titles and classics dating back to the 1960's – anytime, for free. In addition, all of the video titles are available as iPod™ video files for those that want to watch on the run or display on their big screen TV.
With the large selection of video titles and a vast array of genres, Xbandits will become a favorite to the outdoorsman for years to come. Each featured video has two viewing choices; Standard Definition and High Quality. High Quality gives you near DVD quality and it easily adaptable to viewing on any TV screen through either an iPod™ connection or an internet connection to their TV. Being able to watch full screen videos-on-demand in the comfort of your home for free is something that didn't come overnight.
"When we started Xbandits back in 2006, we never imagined the incredible amount of time it took to get us where we are at today," said Robert King, founder of Xbandits. "We saw the direction of on-line videos years ago and wanted to get a foot in the door in order to stay on the cutting edge of video distribution."
"Hunters and outdoorsman are very serious about their sport and being able to present the quality and library of titles is something we are very proud of," says Robert. "This is something that everyone needs to experience for themselves and see just how easy it is to use. Our content library has over 400 current titles with hundreds more in the pipeline."
Users will find something different when they visit Xbandits. Clutter-free surroundings. That means no busy ads and pop-ups that seem to control video sites of today. Revenue will come from a commercial played before each video. "We are going to great lengths to control the content on Xbandits including the advertising. We are not involved with the large networks of advertising, we are placing only ads that are relevant to the outdoorsman." Ads Robert. "You won't see any diaper or house cleaning commercials, only hunting related." Xbandits gives advertisers the opportunity to connect their brands with premium content online, interact with highly engaged consumers.
Someone who knows about video creation and encoding are probably the only ones that will see all the detail work within Xbandits. "Each video has been broken down into chapters with each chapter titled accordingly," ads Robert, "Every chapter is searchable making finding the right video to watch a snap." Creating shorter viewing options was the desire from the beginning stages and without the comfort of having the videos already in a digital format made the task that much more complicated. "Most of what you see on the internet today is from current forms of video distribution like from TV shows where they are already in a digital format. We have had to basically strip down each video and manually create each chapter and title by hand." Concludes Robert.
Hunting titles are not the end of the show for Xbandits. They have already contracted with numerous other video producers in other interests including, Motorsports, How To's and Travel. Xbandits may not be part of the big studios and their big budgets, but they will surely please those people that appreciate a little more home-cookin' and a personal touch.
# # #