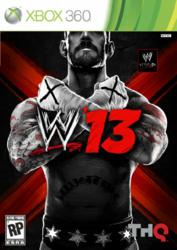 Detroit, MI (PRWEB) September 05, 2012
WWE '13, the highly anticipated game featuring WWE Champion CM Punk on the cover, is available for preorder at SportsFanPlayground.com. The game is available for the Xbox 360, Playstation 3, and Nintendo Wii consoles. The game will be released on October 30 worldwide.
The game will feature superstars from the famous "Attitude Era" of the WWE, a time during the late 90s when wrestling transformed a generation of viewers into die hard fans that still enjoy the period of chaos, unpredictability and antics that defined the television shows, WWE Monday Night Raw and WWE Smackdown. Some of the superstars included from that era are Mike Tyson, Stone Cold Steve Austin, Mr. McMahon, The Undertaker, D-Generation X, Edge, and many more - with their looks during that time period.
The game will also feature the current stars of today's WWE landscape including CM Punk, Sheamus, Triple H, John Cena, Randy Orton, Chris Jericho, and Daniel Bryan. The game will bring back the WWE Universe feature that serves as the storyline mode for the game. Along with the Predator Technology to make the game more seamless, WWE and THQ will look to make a game that will be able to compete for many game of the year awards.
SportsFanPlayground.com also has various WWE DVD and Blu-ray releases on sale and available for preorder. Some of the titles that are currently on sale include -
Undertaker - The Streak (DVD) - $14.99
CM Punk - Best In The World (Blu-ray) - $24.99 (preorder)
Summerslam 2012 (Blu-ray) - $18.89 (preorder)
Brock Lesnar - Here Comes The Pain (Blu-ray) - $20.85 (preorder)
ECW Unreleased Vol. 1 (Blu-ray) - $21.91
Best of Saturday Night's Main Event (DVD) - $8.42
WWE Attitude Era (Blu-ray) - $35.96 (preorder)
WWE New World Order (Blu-ray) - $35.96 (preorder)
For more information, visit SportsFanPlayground.com.
About SportsFanPlayground.com -
The Sports Fan Playground is a leading online e-commerce provider of sporting goods and fan apparel from the NFL, NBA, NHL, NCAA, MLB, UFC and WWE, among other leagues around the world. The store also has a wide variety of electronics which range from tablets, PCs and cameras to video games, DVDs, Blu-Ray Discs, appliances, lawn and garden products and more.
The store also carries the top brands in electronics and apparel including Nike, Adidas, Apple, Sony, Samsung, Microsoft, EA Sports, and many more. The company recently began its initial expansion into clothing and jewelry and will continue to expand over the next several months.