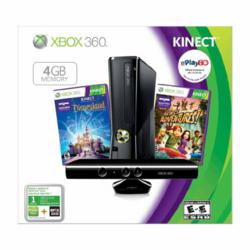 Detroit, MI (PRWEB) May 19, 2013
SportsFanPlayground.com currently has 3 new Xbox 360 holiday bundles available for shipping immediately. The bundles feature the Kinect system, an Xbox 360 game console, various games, and a month free of Hulu and Epix.
Bundle 1 features the Xbox 360 250GB console, a month free of Hulu and Epix, a free month of Xbox Live, the Forza 4 game, Elder Scrolls Skyrim download token, and a wireless Xbox 360 controller.
Bundle 2 features the Xbox 360 4GB console, the Kinect motion system, the Kinect Disneyland Adventures game, Kinect Adventures game, an Xbox 360 wireless controller, and the 1 month free Xbox Live, Hulu and Epix subscription.
Bundle 3 features the Xbox 360 250GB console bundle, the month free of Hulu, Epix and Xbox Live, the Kinect sensor, Kinect Sports game and Dance Central game.
The store is also taking orders on the upcoming Xbox 360 Limited Edition Halo 4 bundle and has the special edition Kinect Star Wars Xbox 360 bundle available for shipping.
SportsFanPlayground.com also has deals on select Xbox accessories, including up to 35% off of the Xbox 360 wireless controller and 27% off of the Xbox Live Gold membership card.
For more information, visit SportsFanPlayground.com.
About The Sports Fan Playground -
SportsFanPlayground.com is a leading online e-commerce provider of electronics which range from tablets, PCs and cameras to video games, DVDs, Blu-Ray Discs, appliances, lawn and garden products and more.
The store also carries the top brands in electronics and apparel including, Nike, Adidas, Apple, Sony, Samsung, Microsoft, EA Sports, and many more. The company recently began its initial expansion into clothing and jewelry and will continue to expand over the next several months.