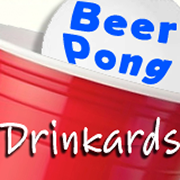 K.C. Entertainment Studios, with the help of The Unallied, was able to meet 144% of its fundraising goal
Pittsburgh, PA (PRWEB) November 01, 2012
On October 20th, 2012, Master Blud, the creator of VVGtv.com, promoted indie games in order raise money and awareness for the Extra-Life campaign. The Unallied, an independent video game company, sponsored 2 hours of the fundraiser while playing their new smash indie game hit, Drinkards Beer Pong. The Extra-Life campaign is an annual fundraising event that allows gamers to play video games, while simultaneously supporting local Children's Miracle Network Hospitals. Extra-Life is a 24-hour fundraiser, designed like a charity walk, that lets donors sponsor gamers who give their time to support this cause through playing video games.
Master Blud focuses on reviewing and promoting indie games, and promised any indie gamer who donated to the campaign that he would play a game of their choice and stream the footage of him gaming for the duration of the fundraiser. Master Blud supported his friends at K.C. Entertainment by donating 24 hours of his own time to the cause, and he took it one step further by helping to support off-the-radar indie games. Anyone who donated $25 or $50 to the cause could request that Blud play the indie game of their choosing for 1 or 2 hours respectively, while streaming all of the footage live over the web. Along with a donation, The Unallied also showed support by teaming up with Master Blud for a few hours and playing Drinkards Beer Pong.
Altogether the Extra-Life fundraising event was able to collect over $1.8 million in total donations, and K.C. Entertainment Studios, with the help of The Unallied, was able to meet 144% of its fundraising goal.
The Unallied is an independent video game studio founded in 2008. The company has released six unique games for the Xbox 360 console, which explore underrepresented genres - from large-group party games to artistic puzzles designed for 3D Televisions. The studio focuses most efforts on growing its Drinkards game and brand, which has seen tremendous growth each year since release in 2009. In August 2012, The Unallied released Drinkards Beer Pong for Xbox 360, combining the unpredictability of Drinkards with the popular college drinking game, and it quickly became the studio's top seller, staying on the Xbox Live Indie Games Top 100 Best Sellers list since release. Currently the company is adding features to Drinkards Beer Pong and seeking to expand the Drinkards brand to other platforms.