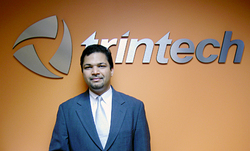 SEC mandates are driving increased demand in the marketplace for technologically advanced financial reporting solutions that can support the embedded tagging, workflow, approval, and output of XBRL-compliant financial statements
Dallas, TX/Dublin, Ireland/London, United Kingdom (PRWEB) September 28, 2009
Trintech Group Plc (NASDAQ: TTPA), a leading global provider of integrated financial governance, risk management and compliance software solutions, announced today that it has increased the strength of its leadership team with the addition of Chethan Gorur as Director of Interactive Data Services. As part of his duties, Chethan will be tasked with thought leadership, strategy, and product development efforts for Trintech's Unity Xtensible Financial Reporting (XFR) solution, which includes embedded support for the report tagging and output of financial statements with XBRL.
"SEC mandates are driving increased demand in the marketplace for technologically advanced financial reporting solutions that can support the embedded tagging, workflow, approval, and output of XBRL-compliant financial statements," said David Taylor, Trintech's Vice President of Strategy. "We're excited that Chethan has decided to join our product team. His wealth of expertise in the technical and regulatory issues surrounding XBRL compliance will play a major role in all Unity XFR development efforts moving forward."
As a key member of the XBRL leadership team at Microsoft for over five years, Chethan was instrumental in crafting and executing on the XBRL product strategy there, and was a key contributor to Microsoft Investor Central, which was termed the most important shareholder initiative in a decade by Motley Fool. In addition, he led the product team responsible for incubating a new SaaS-based XBRL product line. Prior to his technical role leading Microsoft's XBRL compliance efforts, Chethan held product leadership positions at i2 technologies, IBM, and One Network - where he was responsible for overseeing SaaS/Packaged Enterprise solutions from incubation to maturity.
One of the initial deliverables from Chethan's efforts is a white paper detailing how businesses can minimize the costs associated with their XBRL compliance efforts, entitled "Tag, You're It: A Winning Strategy For Automating XBRL Compliance." To read the paper, visit http://www.trintech.com/One today.
About Trintech Group:
Trintech Group Plc (NASDAQ: TTPA) is a leading global provider of integrated financial governance, risk management, and compliance software solutions for commercial, financial, and healthcare markets. Trintech's recognized expertise in reconciliation process management, financial data aggregation, revenue and cost cycle management, financial close, risk management, and compliance enables customers to gain greater visibility and control of their critical financial processes leading to better overall business performance.
For more information on how Trintech can help you increase confidence in business performance and reduce financial risk, please contact us online at http://www.trintech.com or at our principal business office in Addison, Texas, or through an international office in Ireland, the United Kingdom, or the Netherlands.
Trintech • 15851 Dallas Parkway, Suite 900 • Addison, TX 75001 • Tel 1 972 701 9802
Trintech UK Ltd. • Warnford Court, 29 Throgmorton St. • London EC2N2AT, UK • Tel +44 (0) 20 7628 5235
Trintech Technologies • Block C, Central Park • Leopardstown, Dublin 18, Ireland • Tel +353 1 293 9840
Trintech • Cypresbaan 9 • 2908 LT Capelle a/d Ijssel, The Netherlands • Tel +31 (0) 10 8507 474
Trintech Press Contact:
Dallas: Dave Tomlinson - Director, Marketing
Tel. +1 972 739-1611. Email: dave.tomlinson (at) trintech.com
###