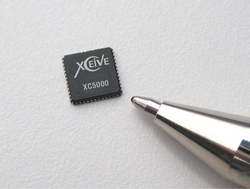 Xceive's advanced tuner technology and full service support team allowed us to meet tight time-to-market constraints and difficult performance goals in implementation of a new tuner solution in our state of the art flat panel TV.
Santa Clara, CA (PRWEB) April 19, 2010
Xceive Corporation, the worldwide market leader in RF tuner ICs for TV sets, announced today that Vestel, the largest TV manufacturer in Europe, has selected the XC5000 RF tuner IC for a new line of LCD TVs for the European market. Xceive's XC5000 is the world's first and only silicon TV tuner IC widely accepted into mainstream TV production for worldwide markets.
Xceive's XC5000 is the world's most highly integrated TV tuner IC with a complete RF tuner function, global multi-standard analog demodulator, and all intermediate frequency (IF) filtering and AGC functions included. The XC5000 is a true worldwide solution compatible with all global analog and digital television signal standards. Packaged in a small 7x7mm QFN package, the XC5000 enables TV manufacturers to reduce the size of the tuner function inside their TV designs.
"The XC5000 tuner IC is the perfect match for Vestel's innovative flat panel display solutions," said Kagan Mete Pancar, director of Engineering for Vestel Electronics. "Xceive's advanced tuner technology and full service support team allowed us to meet tight time-to-market constraints and difficult performance goals in implementation of a new tuner solution in our state of the art flat panel TV."
The XC5000 replaces the traditional "Can" tuner module inside a new line of Vestel DVB-T LCD TV products for various European regional markets. Xceive's firmware-controlled smart tuner architecture allowed fine-tuning the performance to meet Vestel's specific performance requirements. The Xceive architecture with high integration, firmware-control, and auto-correction techniques yields very consistent performance of the XC5000 across production of millions of units. Additionally, there are no variable components (e.g. variable inductors or capacitors) which can change value over time as there are in most "Can" tuner modules. Thus, XC5000-based designs show excellent long-term reliability.
"Vestel is a leader in the TV industry and their selection of the XC5000 is further proof that Xceive is the most compelling tuner IC solution for television applications" said Brian Mathews, vice president of marketing for Xceive. "Vestel is the ideal type of fast-moving, advanced technology company which can fully utilize the leading-edge technology advantages provided by a programmable tuner IC like the XC5000. Through firmware customization, Xceive was able to provide Vestel with industry-leading performance tailored to the specific requirements of Vestel's target markets."
The XC5000 is the only global hybrid TV tuner with an on-board DSP controller and unique architecture to deliver world-class tuner performance for all major analog and digital broadcast television standards worldwide. Vestel's production TVs with the XC5000 have been field-tested over many months under worst-case scenarios. Even in the most challenging real world conditions, the DSP-enabled XC5000 never requires silicon changes as rapid corrections in firmware enable fast time to market.
Vestel will adopt the XC5000 into LCD TVs for various European markets immediately. The initial rollout will begin in UK, followed by Italy, Germany and then other regions of Europe, in the second quarter of 2010.
About Vestel
Vestel Group is comprised of 24 companies operating in manufacturing, technology development, marketing, and distribution fields in the consumer electronics, IT, digital technologies, and household appliances.
For more information see: http://www.vestel.com
About Xceive
Xcieve is a venture-backed fabless semiconductor company developing RF silicon solutions for television signal reception which replace the bulky "Can" tuner modules traditionally used inside television sets. Xceive is producing the XC5000, the first silicon tuner which provides performance surpassing that of tuner modules. Xceive is the first silicon tuner manufacturer to achieve design wins and production ramps with several Tier one TV manufacturers. Xceive estimates that nearly 10 million TV sets have been produced for all regions of the world with its industry-leading XC5000 multi-standard tuner plus analog demodulator. This demonstrated market adoption highlights the flexibility of Xceive's proprietary architecture which achieves true compatibility with all worldwide digital and analog TV standards.
Visit http://www.xceive.com, e-mail info(at)xceive.com, or call (408) 486-5610 for more information.
Media contact:
Brian D. Mathews
Xceive Corporation, Marketing
(408) 486-5610 x123
bmathews(at)xceive(dot)com
###