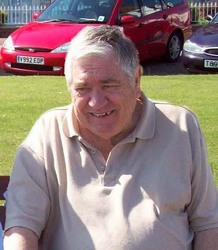 My physiotherapist is amazed at how well I am doing...
Dusseldorf, Germany (PRWEB) September 10, 2010
After stem cell therapy for chronic obstructive pulmonary disease (COPD) at the XCell-Center in Dusseldorf, Germany, post-treatment tests confirm patient's remarkable physical improvements.
Frank Wade, a retired chauffeur from Sussex, England, is indeed breathing easier following his stem cell therapy for COPD at the XCell-Center this past June. Mr. Wade also worked many years as a compositor for a printing company where he handled lead and other dangerous chemicals that he feels may have contributed to his COPD.
"I was taken ill with pneumonia in June 2009 and whilst in hospital I was diagnosed with COPD but I had had breathing problems since 2008 and this was being looked into by my doctor. I was very out of breath and weak and gradually became unable to carry out normal day to day activities. I couldn't do any gardening, cooking or decorating; I wasn't well enough to go on holiday. I used to sit in a chair doing very little. I wasn't able to shower without any assistance. I seldom left my home," remarked Mr. Wade regarding the progression of his illness.
The stem cells were implanted via minimally invasive angiography into Mr. Wade's pulmonary arteries by Dr. Christian Beythien, the XCell-Center's Head Cardiologist and Medical Director. During this procedure, a special catheter (thin hollow wire) is inserted into the femoral vein and then guided via x-ray scanning through the heart and into each pulmonary artery where 50% of the stem cells are implanted into the right pulmonary artery and 50% into the left. The entire procedure normally takes about 90 minutes.
When asked about his progress since undergoing stem cell therapy, Mr. Wade replied, "Three weeks after treatment, I went to see my doctor in a London hospital. He carried out two tests and noted an improvement since my last (pre-stem cell therapy) visit. Since the stem cell treatment, I have stopped using the inhalers which I used twice a day. I can now go on short walks. I can also go out with my friends and my breathing is so much improved. I've even felt able recently to cook a meal which I haven't done in over a year. " He went on to add, "My physiotherapist is amazed at how well I am doing for someone with COPD. I also had my SATS taken recently and they were 98%; a great improvement."
Each COPD treatment begins by collecting a small amount bone marrow from the patient's hip bone using a thin needle under local anesthesia. The stem cells are then separated from the bone marrow at the XCell-Center's EU certified cGMP laboratory (current good manufacturing process). Before the cells leave the lab, they are counted and their vitality is confirmed. The last step of the treatment is the minimally invasive implantation procedure.
The price of the COPD angiography treatment is 13,500 Euros. IV treatment is 5,545 Euros.
About the XCell-Center
The XCell-Center operates treatment centers in Cologne and Dusseldorf, Germany. It is the first clinic in Europe to specialize in regenerative medicine using autologous bone marrow stem cell therapy and operates in accordance with German law, European guidelines and ISO 9001. Its specialized medical team of German physicians includes specialists in: neurosurgery, orthopedics, cardiology, radiology, anesthesiology and pharmacology.
The XCell-Center also treats Diabetes and its complications (Erectile Dysfunction and Peripheral Artery Disease), Stroke, Cerebral Palsy, Autism, Spinal Cord Injuries, Orthopedic diseases, Heart Disease and degenerative diseases such as Multiple Sclerosis, Parkinson's, Alzheimer's and several eye diseases.
Since its inauguration in 2007, more than 3,500 patients have been treated.
For more information on Stem Cell Therapy:
XCell-Center Website: http://www.xcell-center.com
Twitter: http://www.twitter.com/xcellcenter
Facebook: http://www.facebook.com/XCellCenter
XCell-Center GmbH
at the Institute for Regenerative Medicine
Am Heerdter Krankenhaus 2
40549 Dusseldorf, Germany
E-Mail: info(at)xcell-center(dot)de
Phone: 1-866-680-8202 (USA Toll-Free) (+49) 0221-802-5095 (Germany)
Fax: 1-713-583-9322 (USA) (+49) 0221-2921-2550 (Germany)
###