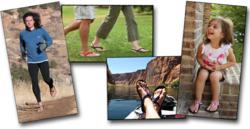 Over 25,000 customers starting making their shoes LESS "invisible", so that was a sign it was time to rebrand.
Boulder, CO (PRWEB) January 31, 2013
Barefoot shoe maker, Feel The World, Inc. officially renamed its minimalist sandal line from "Invisible Shoes" to "Xero Shoes" by launching its new website at http://www.XeroShoes.com today.
Asked what inspired the name change, CEO Steven Sashen says, "Our 25,000+ customers started making their sandals less and less 'invisible' by developing funky tying styles, using brightly colored laces, and adding some crazy blinged-out decorations."
Sashen then adds, "Plus, Xero retains our minimalist flavor, has an authentic feel that matches our product, improves our branding possibilities and, well, is much cooler." Within days of announcing the new name and displaying the new logo, customers began expressing their approval and requesting t-shirts and other Xero merchandise.
The company has been transitioning to the new name for months. The new website is the final piece of the puzzle. http://www.XeroShoes.com caters both to prospective customers as well as those who are investigating barefoot running , walking and hiking, and those curious about minimalist footwear. Explains Sashen, "We believe in the value of natural movement and of footwear that doesn't hinder natural movement, so we designed this site as a resource for those who want to transition away from padded, motion-controlled shoes… which have never been proven to be more beneficial than something as minimalist as Xero Shoes or being barefoot."
Sashen added something else to http://www.XeroShoes.com that's perhaps unique to the shoe company he co-founded with his wife, COO Lena Phoenix, "Channel Xero – the Barefoot Comedy Channel." Channel Xero features cartoons, Internet meme jokes, and videos, including a viral video starring, written, produced and directed by Sashen, "Sh*t Barefoot Runners Say," which has over 185,000 views.
"I'm a former professional stand-up comic, and I have a Masters degree in film," says Sashen. "So it was inevitable that our company would take a twisted look at our market, our customers, our critics and, of course, ourselves."
ABOUT:
Xero Shoes, Original Barefootware produces minimalist sandals that over 25,000 people enjoy for walking, hiking, camping, kayaking, paddle boarding, jogging, yoga, and even running 100-mile ultramarathons. A modern take on the tire sandals worn by the Tarahumara Indians in Mexico, Xero Shoes give wearers the fun and benefits of being barefoot, but with a layer of protection, a perfect fit, customized style, an affordable price point, and a 5,000 mile warranty. http://www.XeroShoes.com