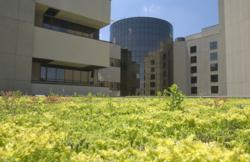 Xero Flor is the only green roof system selected as a Money-Saving Product by BUILDINGS magazine
Durham, NC (PRWEB) May 14, 2013
Xero Flor America (XFA) announced that the Xero Flor Green Roof System has been named by BUILDINGS magazine as a Money-Saving Product for building owners and facility managers. "We chose Xero Flor as a 2013 Money-Saving Product because it is an economical solution with substantial cost savings for building owners and management," said Jennie Morton, associate editor, BUILDINGS. "Xero Flor is the only green roof system selected for this special recognition."
The Xero Flor system utilizes lightweight, pre-vegetated mats based on a patented, textile-based design engineered in Germany and refined over decades of research and development. All Xero Flor components for projects in the United States are 100 percent American-made.
"In Xero Flor pre-vegetated green roof mats, the plant material and growing medium are woven together onto a flexible geotextile carrier, which does not decompose. The result is a strong, durable mat with an underlying carrier layer that stays intact," said Clayton Rugh, Ph.D., general manager and technical director, Xero Flor America (XFA). "If a roof must be accessed for inspection or maintenance, sections of Xero Flor mats can be rolled up and then rolled back into place. This saves time and money compared to digging out, discarding and then replacing entire areas of loose green roof materials."
Only Xero Flor pre-vegetated mats have been Cradle to Cradle (C2C) Certified for environmental sustainability. They are grown for 9-12 months at independent, locally owned farms in the climate zones where they are installed. The mats have extensive vegetative coverage with plants that are mature, full-grown and adapted to specific regional climates before they go up on a roof. Thus, Xero Flor establishes instant green roofs that are successful immediately and sustainable for the long term with little maintenance required.
Xero Flor options range from systems weighing only 8-10 pounds per square foot to ballasted applications of 25 pounds per square foot. Xero Flor green roof assemblies work beautifully on basic flat roofs, roofs with dynamic shapes, and even on slopes up to 45 degrees.
Xero Flor has been proven in tens of thousands of installations worldwide. In the U.S., the Xero Flor green roof on the Dearborn Truck Plant at the Ford River Rouge Complex measures 454,000 square feet. It is the largest green roof on a single, freestanding building in North America and one of the largest in the world. In New York, N.Y., the new Javits Convention Center green roof also uses Xero Flor. When completed this year, it will total 292,000 square feet and will be second in size to the Ford installation. Other Xero Flor America projects include the seven green roofs at Columbia University and the five-roof installation on the Silver City Townhomes in Milwaukee, Wisc.
Published by Stamats Business Media, Cedar Rapids, Iowa, BUILDINGS magazine serves commercial building owners and facilities management professionals for commercial real estate. BUILDINGS offers information on the development, construction, modernization, management and operations of commercial buildings as well as the products and services needed to support commercial buildings and property management. The magazine's editorial team reviewed 130 submissions for Money-Saving Products and evaluated their cost savings for facilities' utility bills, employee productivity and time, maintenance needs, and product lifecycle costs. The 53 selected as Money-Saving Products will be profiled in the June 2013 issue.
About Xero Flor America (XFA)
Founded in 2002 and headquartered in Durham, N.C., Xero Flor America (XFA) stands at the forefront of the North American green roof industry. XFA is the official and exclusive distributor in the U.S. for the Xero Flor Green Roof System. Regionally grown on local, independent farms and 100 percent American made, the Xero Flor system utilizes advanced, lightweight, pre-vegetated mat technology. Engineered in Germany and refined over more than 40 years of ongoing R&D, Xero Flor has been proven successful and sustainable in tens of thousands of installations flourishing worldwide and covering hundreds of millions of square feet. No green roof system in the U.S. offers more validation based on independent scientific research than Xero Flor (http://www.xeroflora.com).