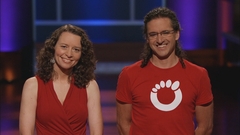 Stop by PV449 and see what the Shark Tank Effect has been on Xero Shoes!
Boulder, CO (PRWEB) June 30, 2013
Barefoot shoe company, Xero Shoes, which was featured on the ABC business/reality show, Shark Tank, will be at the Outdoor Retailer trade show, July 31-Aug 3, 2013 in booth PV449.
Co-founders and husband-and-wife team, Steven Sashen and Lena Phoenix will be at the company booth in the New Product Pavilion to share their experiences of being on the hit show, and walking away from a $400,000 offer from Kevin "Mr. Wonderful" O'Leary.
Says COO, Phoenix, "Even without a deal Shark Tank dramatically accelerated the growth of our business."
Since taping the show, for example, Xero Shoes hired Dennis Driscoll, a 35-year industry veteran who co-founded Avia Footwear and most recently was head of Global Product Design for Crocs.
"With Dennis's help," says CEO Sashen, "we've developed four new products that we're launching at Outdoor Retailer. These are variations of our barefoot sandal technology that are much more retail friendly, and allow the customer to simply grab a sandal off the shelf, put it on their foot, and immediately experience the fun and benefits of authentic barefoot movement."
Visit http://www.XeroShoes.com to learn more about the minimalist sandal company and its barefoot-style products. And visit booth PV449 at Outdoor Retailer, July 31 – Aug 3.
ABOUT:
Feel The World, Inc. of Boulder, CO, manufactures Xero Shoes®, a high-tech upgrade on the traditional huaraches running sandal of the Tarahumara Indians of Mexico. Durable, stylish and affordable — Xero Shoes supply the fun and benefits of being barefoot, but with a layer of protection and personalized style. Feel The World, Inc. launched in December 2009. To date, over 40,000 customers, ages 1 to 91, in more than 92 countries wear Xero Shoes for walking, hiking, yoga and gym-going, Crossfit, kayaking, jogging, and even running hundred-mile ultra marathons.