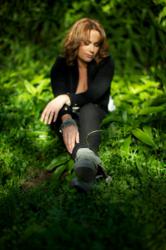 We are very flattered that Starlettos are now beginning to be requested by celebrities for their outdoor occasions
(PRWEB) October 30, 2012
As newly-announced X Factor co-host Mario Lopez prepares for the first live show of the new season on November 1, together with his fiancee Courtney Mazza he is also preparing for a much bigger event - their wedding. That Starlettos high heel protectors have been included in the bridal shower gift bag may point to a garden wedding.
"Starlettos, which help to stop high heels and stilettos sinking into grass, have fast become a must-have accessory for garden weddings in particular" said Starlettos creator, Ilde Naismith-Beeley. "It could be that Mario and Courtney are thinking ahead by providing heir high-heel wearing guests with a practical, and attractive, accessory for the occasion."
One of the other great advantages to wearing Starlettos is preventing dance-floor and stair mishaps.
"No one wants their special day to become the subject of video comedy, and slipping on dance floors is, sadly, a common occurrence" explained Ilde. "Starlettos give a bride, the female members of the bridal party, and guests, dance floor confidence."
Today's shoe fashions feature glamorous stilettos and very high heels, and, while stars like Courtney Mazza may be adept at wearing them, when it comes to a wedding day, even the most poised bride could stumble.
"With wedding gowns often costing many thousands of dollars, the damage caused to them by a errant stiletto could be distressing at the very least - Starlettos reduce this risk dramatically" explained Ilde.
"We are very flattered that Starlettos are now beginning to be requested by celebrities for their outdoor occasions, and have been chosen to play a role in Mario and Courtney's wedding."
Mario Lopez and Courtney Mazza's wedding will be aired on national TV on December 8.
About Starlettos
Australian-designed, globally-loved.
Starlettos are high heel protectors with a focus on design. They are easily slipped on and off stilettos and high heels to prevent them from sinking into grass at high-fashion outdoor events. With the added benefit of a non-slip base they provide the wearer with red-carpet confidence at events where high heels star: weddings, proms and awards ceremonies.
Starlettos are the brainchild of Australian Ilde Naismith-Beeley, and were the result of her own desire to wear beautiful shoes at her outdoor, on grass, wedding. In the process of creating Starlettos, Ilde solved two other stiletto-wearing-bride dilemmas - instability on stairs and dance floors, and potential damage to the wedding dress.
Discover more about Starlettos, to find a stockist, or to order online, visit Starlettos.com