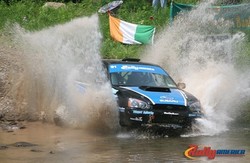 We've lined up a talented team to bring the unfiltered excitement of professional rally to new and existing fans of the series!
Redmond, WA (PRWEB) June 2, 2008
Driving Sports today announced that it would be presenting live worldwide coverage of the 2008 Waste Management Susquehannock Trail Performance Rally presented by Citizen's and Northern Bank, Round 5 in the Rally America Championship series, scheduled for June 6 and 7.
As part of this groundbreaking coverage, Driving Sports will present live video streams, a dynamic event blog, cell phone SMS alerts and daily action recaps through its web site http://www.drivingsports.com. This will be the first time a Rally America regular series round has featured such extensive live coverage. The event is a crucial step for competitors as they fight for coveted invitations to the 2008 ESPN X Games in Los Angeles.
"We are very excited to bring some of the best rally action in the world to a wider global audience," said Driving Sports Producer, Ryan Douthit. He continued, "We've lined up a talented team to bring the unfiltered excitement of professional rally to new and existing fans of the series!"
Viewers will have the opportunity to watch and interact with action sports stars, Dave Mirra, Travis Pastrana, Ken Block and Andrew-Comrie Picard, as they fight against the elements and a large field of seasoned challengers - all from the comfort of their home computers or on select 3G smartphones.
"Rally America appreciates the coverage that MediaSpigot has provided over the years through its print magazines, and we're really excited about the live updates they have planned for Round 5," said J.B. Niday, Managing Director for Rally America.
The first live broadcast from the event will commence at 9am EST on Friday, June 6, with additional live feeds and updates posted regularly throughout the day, including exclusive interviews from the service-park and tape-delayed stage action. Viewers can point their web browsers to http://www.drivingsports.com for more details, or text RALLY to 38714 to sign up for SMS alerts.
About MediaSpigot LLC
Based in Redmond, Wash., MediaSpigot is one of the fastest growing, privately held producers of automotive-enthusiast media in the United States. Its print titles include Subiesport Magazine, among others, available through major booksellers in the United States, Canada, Singapore and Hong Kong. Under the Driving Sports and Driving Sports TV brands, MediaSpigot produces enthusiast lifestyle events, television specials, web destinations and streaming video programming. For more information, visit http://www.mediaspigot.com.
About Rally America
Based in Golden Valley, Minn., Rally America sanctions the premier rally racing series in the United States, the Rally America National Championship Series. In 2008, Rally America will conduct nine National Championship events at venues across the country, from Pomeroy, Wash., to Bethel, Maine. Rally America competitors reach speeds well over 100mph in modified street cars on natural-terrain courses of gravel, dirt or snow. Additionally, through a partnership with ESPN, qualifying Rally America drivers will be invited to compete in the Summer X Games, the annual leading action-sport event that is broadcast live on ABC and ESPN. For more information, visit http://www.rally-america.com.
###