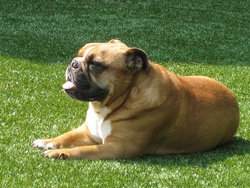 One of the main benefits to using a synthetic grass is the overall cleanliness that it provides
Dalton, GA (Vocus) September 8, 2010
Pets, especially dogs, love the outdoors. It's where they get their daily exercise and where they have the most fun. That's why most pet care facilities such as kennels, pet daycare centers, and many veterinary clinics incorporate a dedicated outdoor play area into the design of their businesses. It's also why dog parks have become so popular in urban areas and why avid pet owners fence in their yards. Providing an outdoor area is all about giving pets a place to roam and run.
Of course maintaining these areas has its headaches. Many outdoor areas such as dog parks and pet care facilities are part of the community. Keeping a grass area attractive and manicured includes all the things that go into maintaining a typical yard; not to mention the muddy dirt areas during a rainy period or the dust and dirt during a hot dry summer. "One of the main benefits to using a synthetic grass is the overall cleanliness that it provides" comments Ron Bennett, President of Xgrass Inc. He went on to point out that "a mud and dirt free play area can reduce time cleaning pets up in preparation for owner pickup at care facilities and when it comes to dog parks, pet owners don't have the hassle of loading a dirty pet into their cars or cleaning their pet up to head into the house." Using synthetic turf for pet play areas is following the trend of playgrounds for kids. XGrass has been supplying and installing XGrassPlay at child daycare centers and community playgrounds across the country for many years now. Synthetic grass provides a safe, clean place for children to play so that makes it perfect for pets too.
Dogs are not especially kind to lawns and anything that would replace a lawn needs to be tough and durable. XGrassPet is designed with strong nylon fibers designed to resist the clawing, scratching and pulling that dogs will be sure to do. Durability is one thing but what about the waste? XGrassPet is designed with a patented Duraflow backing that not only drains phenomenally well, but also allows XGrassPet to be recycled should it ever need to be removed. XGrassPet is also anti-microbial, easy to clean, and does not require pesticides or chemical treatments.
All the benefits that a pet care facility can benefit from also apply to homeowners. You can create a backyard oasis for your pet that also looks permanently manicured. Best of all, it helps conserve natural resources in areas where water restrictions are a concern. "Simply put, home owners still want the beautiful landscapes they enjoy without the concern of watering restrictions" states Bennett. Water restrictions have helped synthetic grass to catch on in residential neighborhoods, especially in arid areas.
XGrass Inc. services the United States and Canada through their distribution network and independent dealers. Available brands including XGrassLawn, XGrassPlay, XGrassPet, XGrassSport, and XGrassGolf. The brand variety helps create categories that fit the unlimited applications that XGrass products can fit. Uses range from playground surfacing to putting greens to dog parks and private residences. The world is ever changing and it will require increasingly versatile product solutions to meet the needs of our society. Synthetic grass is one of those products.
# # #