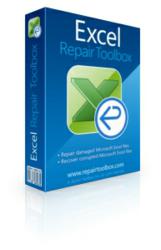 Now Excel Repair Toolbox recovers corrupted workbooks of MS Excel supported format on any computer easier.
Alexandria, VA (PRWEB) December 13, 2012
Excel Repair Toolbox is the easiest workbook repair program, supporting the analysis of Microsoft Excel files and restoring the structure of corresponding worksheets regardless the version of XLS file to be opened. This tool offers intelligent data recovery solutions regardless technical skills of its users, the interface of XLSX repair software is so easy that all appropriate data recovery activities consist of several easy steps. As for the rest, this application offers many advantages for all users, beginners or professionals.
Victor Bobrov, the developer of Excel Repair Toolbox states this method of XLSX repair, powered by this application, recovers even more information so the data in Microsoft Excel workbooks can be protected even without regular backups and other activities of keeping the data safe. Look through the feedback of its users, published on the website of application developer and get to know what people say about the efficiency of Excel Repair Toolbox and its powerful data recovery engine.
Excel Repair Toolbox provides the safety of Microsoft Excel restoration due to the fact that it does not modify the structure of MS Excel documents in use. This program quickly parses affected files regardless the reason of damage, fixes data corruption errors and converts the data into newly created documents of corresponding format.
Repair Toolbox is independent software vendor, developing, selling and supporting data recovery services for many data formats. This company exists since 2003 and offers more than 20 data recovery tools, providing the highest efficiency of analysis. This company can be found at: http://www.xlsxrepairtoolbox.com site.