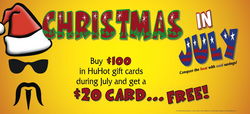 Missoula, MT (PRWEB) July 1, 2010
Celebrate Christmas in July and give the gift that everyone loves: a HuHot gift card! It's the season for gift giving to your favorite graduate, the bride and groom to-be, or that soccer or t-ball coach. Or buy it for yourself and get an extra $20 free!
Come conquer the heat with cool savings!
For more information contact: Stephanie Krause at 303-297-1200 or stephanie.krause@huhot.com
About HuHot Mongolian Grill, LLC
HuHot is a create-your-own stir fry concept that offers a wide variety of meats, seafood, noodles, fresh veggies, and signature sauces to suit your tastes. Select your favorite ingredients then have it cooked to perfection before your eyes on a 6-foot Mongolian grill that puts out 950,000 BTUs. With unlimited trips to the grill, you can create a different meal every time.
HuHot Mongolian Grills, LLC opened its first restaurant in Missoula, Montana in 1999 focusing on fresh food, signature sauces and great service. Over the past 11 years, the concept has grown to 32 locations in 12 states and that focus has remained unchanged.
For the past three years, HuHot Mongolian Grill, LLC has been named on the Future 50 list of fastest growing restaurant chains by Restaurant Business magazine and in the 2010 Franchise 500 by Entrepreneur.
To learn more, visit the website at http://www.huhot.com
###