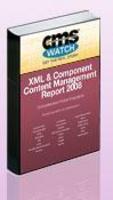 Some vendors have a modern back-end, some have a modern front end, but few have both
Boston, MA, and New York, NY (PRWEB) May 15, 2008
Component Content Management (CCM) technology allows enterprises to manage text content as componentized chunks of information rather than whole documents or web pages. It has become increasingly important to modern enterprises, especially given the rapid emergence of the DITA (Darwin Information Typing Architecture) standard. However, CCM technology remains largely the domain of a wide collection of smaller software vendors targeting narrower use cases, according to research released today by CMS Watch, a vendor-independent analyst firm that evaluates content technologies.
These findings come from ''The XML & Component Content Management Report 2008,'' released today. This groundbreaking report evaluates fourteen major CCM suppliers and five prominent XML Editor tools, based on extensive technology research and customer interviews. The 365-page report also documents industry best practices and common pitfalls to avoid when selecting and implementing a CCM system. Developed by CMS Watch (http://www.cmswatch.com) and The Rockley Group (http://www.rockley.com), this report provides you with essential background to understand the CCM space.
"Managing source content as components was traditionally the domain of technical documentation departments, but has recently expanded to many other business processes, particularly in the wake of DITA," notes Ann Rockley lead analyst on the report. "We're seeing a growing need for CCM across the enterprise to support tasks like regulatory compliance, multichannel publishing, integration of product content across departments, translation optimization, and structured enterprise documents."
"Enterprises looking upstream to manage structured information as XML-based components rather than documents will find a CCM supplier community comprised largely of niche players," argues CMS Watch founder, Tony Byrne. "Some vendors have a modern back-end, some have a modern front end, but few have both," says Byrne. Byrne adds, "although many CCM vendors can boast impressive track records in this space, no individual supplier possesses the resources today to address all potential enterprise requirements for structured content management."
The report also found:

As the first major content technology vendor to play in this space, EMC is the sole exception to this pattern. EMC actually offers multiple CCM offerings. However, EMC's CCM tools suffer from a legacy of feature overlap as well as high complexity and cost.
Some enterprises have employed structured authoring tools with mainstream enterprise content management systems to handle CCM requirements by enabling authors to work with content components in traditional repository structures.
Software usability remains a constant challenge for nearly all CCM implementations and currently limits broader adoption among business users across the enterprise.
No significant open source players have yet emerged in the CCM space, but buyers can find a diversity of commercial license models, including several software-as-a-service (SaaS) suppliers.
"With the growing adoption of XML and DITA, CCM is becoming increasingly important for the intelligent creation, management, and delivery of content," notes CMS Watch principal, Alan Pelz-Sharpe. "The XML & Component Content Management Report can help customers navigate the maze of tools options."
The report may be purchased at http://www.cmswatch.com/CCM/, where readers can also download a sample excerpt.
About CMS Watch
CMS Watch(tm) (http://www.cmswatch.com) is an analyst firm that provides an independent source of buyer's advice on content technologies. Through highly detailed product evaluation reports, CMS Watch sorts out the complex landscape of potential solutions so enterprise project teams can readily identify and assess technologies suited to their particular requirements. To retain its independence as a vendor-neutral analyst firm, CMS Watch works solely for solutions buyers and never for the vendors it covers.
About The Rockley Group
The Rockley Group has an international reputation for developing customer-centric enterprise component content management strategies and underlying information architecture. For more than 15 years The Rockley Group has assisted organizations to select the right technology and develop an effective component-based content management strategy.
CONTACT:
Kristie Hughes, Marketing Director, CMS Watch
Tel: +1 202 966 6999; E-Mail Kristie: khughes @ cmswatch.com
###