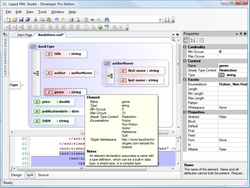 Liquid Technologies announces full support for Visual Studio 2010® - available immediately in the SP1 release of Liquid XML Studio 2010
(PRWEB) May 10, 2010
After the successful January launch of Liquid XML Studio 2010, an advanced XML Editor and development toolkit, Liquid Technologies have announced the availability of Service Pack 1 (SP1), which contains over 40 new features and enhancements plus general performance and stability improvements.
Following hot on the heels of the Microsoft Visual Studio 2010® launch, Liquid XML Studio 2010 announces full support for Visual Studio 2010®. The XML Schema Editor, XPath viewer and Web Services Test Client plug-ins take the capabilities way beyond what Visual Studio offers XML developers out of the box.
This, combined with the powerful XML Data Binding Code Generator that comes with the Developer Edition of Liquid XML Studio, and which now offers runtime support for the newly released Visual C++ 10.0 and .Net 4.0, means that Liquid XML Studio 2010 SP1, is a "must have", for all XML developers using Visual Studio 2010®.
Other new features include:-

Visual Schema Agent - visualises the hierarchical structure of interrelated XML Schema and allows the user to easily navigate between the schema with a single click of the mouse
XPath - build an XPath expression for any XML element directly from within the XML document by right clicking on the element
Find in Files - Improved find and replace - search projects, files or folders on your computer that are related by schema inclusion
Canonical form conversion - all XML documents can be converted to their canonical form which allows documents to be easily compared at their logical level, facilitating the digital signing of documents.
A full list of the new features and enhancements can be viewed at liquid-technologies.com.
Liquid XML Studio 2010 SP1 is a free upgrade available to all existing Liquid XML Studio 2010 licence holders or previous version users with a current USPP (Upgrade Support Protection Plan) contract.
Download Liquid XML Studio 2010 SP1, fully featured no cost 30 day trial .
About Liquid Technolgies
Liquid Technologies Ltd is a privately owned software house based near Leeds, West Yorkshire, U.K. which provides world-leading productivity tools for XML software developers conforming to the W3C standards.
Founded in the year 2000, Liquid Technologies initially developed the world leading XML Data Binding application for generating C++, C#, Java, Silverlight 2, VB.Net and Visual Basic 6 code from XML Schema, which is now part of the Liquid XML Studio product suite.
The current flagship product, Liquid XML Studio 2010, is an advanced XML Development Environment and XML toolkit containing all the tools needed for designing and developing XML schema and XML applications.
For XML novice or expert, the intuitive interface and comprehensive features help save time and money developing a successful XML project.
Key features: XML Editor - XML WSDL XSD DTD CSS XSLT, Graphical XML XSD WSDL Editors, Visual Studio Integration, XPath, XQuery, XSD Schema Document Generator, Web Services, XML Differencing, XML Data Binding, XML Code Generation, Runtime Support for C++, C#, Java, Silverlight, VB.Net, Visual Basic, Fast Infoset support, royalty free runtime distribution, source code option.
###