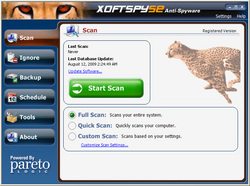 XoftSpySE 6.0 dramatically raises the standard for threat detection and malware removal. We've created the best anti-spyware tool available.
Victoria, BC (PRWEB) September 10, 2009
Anti-spyware giant XoftSpySE has been completely refitted by its technical developers at ParetoLogic. The new upgrade provides a brand new scanning engine, advanced tools, an enhanced user interface and the same fast scan time that characterized the earlier version of the program.
XoftSpySE, with users numbering in the millions, has been a popular anti-malware choice from its inception. The program stressed a fast, efficient scan and removal, with a small footprint that didn't bog down the user's system or hog resources. These elements have been retained, but improved, recharged, and stepped up to face the changing world of malware. Malware, once limited to annoying pop-up ads, has evolved into a wide array of dangerous niches. Keyloggers, spyware, botnets, rootkits, Trojans and more can cause a slow computer, annoying pop-ups, put personal and financial information in jeopardy, and expose users to fraud.
According to Tim Lefler, Security Development Team Leader at ParetoLogic, "XoftSpySE 6.0 dramatically raises the standard for threat detection and malware removal. We've created the best anti-spyware tool available." ParetoLogic built XoftSpySE's new scanning engine with state of the art anti-malware technology, providing reliable and thorough detection and removal of spyware, adware, Trojans, keyloggers and other threats. The state-of-the-art scanning techniques promise to provide unparalleled detection and removal rates. The scanning engine has been supplemented with new spyware removal tools, including a Startup scan and BHO scan. The first allows the user to disable adware, other malware or unneeded items that run at Startup, while the second checks for Browser Helper Objects - these are typically unwanted toolbars or ads that can clutter up the user's internet browser and cause errors.
The Graphical User Interface and design have been similarly revitalized, presenting the iconic XoftSpySE cheetah through dynamic movements and high-resolution imagery. The interface has been polished, with clear screens and options to ensure that removing spyware is as easy as possible. James Dhillon, ParetoLogic's Director of Product Development, said "Users have come to expect not just a functional design, but attractive too. XoftSpySE's new look brings a beautiful design to a fierce scanning engine."
The revamped software will support both the 32 and 64 bit versions of Windows XP and Windows Vista, with planned support for the forthcoming Windows 7. The minimal system footprint also ensures that XoftSpySE performs at top speed even on older or less powerful PCs. Said Lefler, "Spyware is a threat to everyone, and we want to provide top-tier security for users and systems of all kinds."
About ParetoLogic:
In 2004 four brothers recognized that modern computer users need not rely on computer repair technicians to maintain their own PCs. Knowing that sophisticated technology married with a truly user-friendly interface would empower people to secure and optimize their own computers, the brothers researched the marketplace to define and develop the software products that would most benefit today's computer user.
ParetoLogic now employs 140 professionals to help them research, develop, and market software applications that will enable people to secure and enhance their computing experience. Available in eight languages in 192 countries around the world, ParetoLogic has established partnerships on a global scale to ensure that its products are available to all computer users, regardless of location, language, or computing experience.
Attention to the needs of the consumer coupled with a commitment to delivering exceptional software applications and resource-rich websites guarantee that our products will exceed your expectations.
# # #