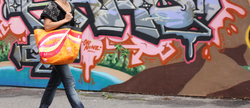 We wanted to remove the traditional scratchy brown image from being green...
Laguna Beach, CA (PRWEB) July 26, 2010
Xoopii Heavy Industries, Inc., an innovative online retailer of limited edition urban art inspired reusable bags, totes and accessories, is showing that consumers can be stylish while still being green.
The retailer launched its website last month with a stylish line of R.U.P.A. (reusable urban pop art) bags such as yorkii "pocketable" bags and RPET totes smartly made from recycled plastic bottles. The cool new reusable bags carry a variety of limited edition designs including anime inspired characters and modern pop deco designs.
"We wanted to remove the traditional scratchy brown image from being green. It is no longer all about drab brown hemp and granola," said Rodney Fujiwara with Xoopii. "The new green is all about a fashion statement, not a political statement. You see, We believe that everyone likes the idea of green grass, blue waters and clean air, but few people want to look mossy. We are innovating the new green nirvana in design."
The cool thing about Xoopii is that there is a limited edition of each collectors bag created and popular designs are flying off the website.
"We are partnering with a number of cutting edge urban artists to bring some diverse and fresh new urban pop art designs to the market," Fujiwara said. "People will definitely be kicking off a new trend shopping, traveling, recreating with our versatile new bags. You'll be sure to draw more envious looks than skeptical stares."
The stylish bags are also very functional. They have great features such as water bottle holders, long shoulder length straps and some even have plenty of pockets for keys, shades or the newest smartphone. Best of all, the yorkii bags are conveniently made to fold down to the size of a men's wallet, thereby making it easier to have your bag with you when you need it.
"People love the fashionable functionality of our new eco-smart reusable bags and totes," Fujiwara said. "It's the new way to look at being green and without having to look like you just left a protest rally."
Amazing, some of the very popular bags are part of the grand opening sale now underway on Xoopii, starting at only $9.99. Normally they are priced starting at $18.99. The retailer is also adding free shipping for orders over $50.
For more information about Xoopii's new line of limited edition R.U.P.A. bags, totes and accessories please check out their website at http://www.xoopii.com. You can also become a follower of the company and its reusable bags on Twitter or a fan on their Facebook page.
###