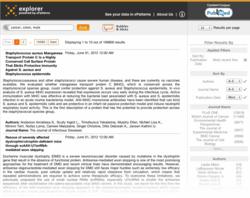 xPatterns will enable a different way to search, relate and, ultimately, use the wealth of research resident within PubMed
Bellevue, WA (PRWEB) July 24, 2012
Atigeo™, a compassionate technology company delivering a revolutionary big data cloud software platform, announced today the launch of its xPatterns™ PubMed explorer, which uses xPatterns semantic search to analyze the United States National Institutes of Health's PubMed body of medical research. Containing information about articles published in 5,200 journals in 30 languages dating back to 1949, PubMed provides the groundwork for nearly all U.S. medical research and advancement. Atigeo's xPatterns PubMed explorer empowers medical research by yielding richer connections and deeper insights stored deep within PubMed's hundreds of thousands of individual documents and gigabytes of unstructured data.
In order to unlock hidden patterns, unknown correlations and other useful information stored in the PubMed data, Atigeo's xPatterns platform assigns relevance scores and generates domain concepts that allow users to search and find pertinent documents organized into clusters. Both linguistic and data agnostic, the xPatterns platform improves its analytical value through machine learning of user's interaction with the documents. It gets smarter the more you use it. With xPatterns, document discovery is no longer a linear search problem.
"Atigeo is delighted to have created the PubMed xPatterns Domain Engine (DE), which will facilitate intelligent discovery into the PubMed body of knowledge via our unique semantic platform, xPatterns. This will enable a different way to search, relate and, ultimately, use the wealth of research resident within PubMed, a body of research consisting of 400,000+ documents," said Michael Sandoval, Chairman and CEO of Atigeo.
The need for a platform that swiftly analyzes unstructured data, such as that found in PubMed, has never been so urgent. Since the beginning of 2012, 2.5 quintillion bytes of data have been created every day. PubMed's data set alone consists of more than 400,000 separate documents, comprising more than 11 gigabytes of unstructured data.
"Our goal is to provide medical researchers with the appropriate tools to shorten research cycles, enable breakthroughs and ultimately improve our health," said Sandoval. "We look forward to moving the needle in helping researchers across the globe expedite the discovery of revelations which lay within their own data."
A demonstration of the xPatterns explorer into PubMed is available – PubMed Demonstration
Read: Building Successful Big Data Solutions, an Atigeo whitepaper.
Contact Atigeo to discuss and see your data in xPatterns
About Atigeo™
Atigeo is a compassionate technology company turning science into products and services for a wiser planet. Our unique semantic platform, xPatterns™, facilitates the intelligent discovery of knowledge from large disparate sources of dynamically changing, structured, and unstructured data. Third party applications can easily be deployed on xPatterns through web-services to immediately enrich data insight through the self-discovery of patterns and concepts in real-time. xPatterns enables a trust model the enterprise may extend to their users, providing each user the ability to privately manage their data, and automatically leverage offline information to provide unprecedented experiences and benefits. xPatterns is enabling telecommunication providers, healthcare providers, government organizations and retailers to leverage new insights in real-time, derived from data that has been traditionally difficult to link and expensive to maintain. xPatterns software can be delivered as Software-as-a-Service or Appliance-based. For more information, visit: http://www.atigeo.com
Media Inquiries
Thea Lavin or Bill Bode
Schwartz MSL for Atigeo
(415) 512-0770
Atigeo(at)schwartzmsl(dot)com
Haripurkh Khalsa
Atigeo
Media Relations
(425) 749- 5049
haripurkh.khalsa(at)atigeo(dot)com