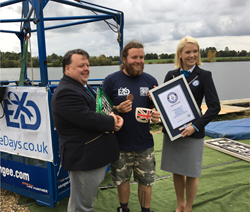 Achieving a Guinness World Record was a group effort that we can all be proud of as team
Steamboat Spring, CO (PRWEB) November 17, 2016
Experience Days, a multinational company that specializes in offering unique experience gifts in both the US and the UK now officially holds the Guinness World Record for the 'Highest Bungee Dunk.' The record was achieved as a part of the Guinness World Record Day Celebration, held annually on the third Sunday of November.
"We're always looking for unique ways to share our experiences and there's no better way than a Guinness World Record", stated Robb Young, the Managing Director of Experience Days UK. The record was achieved on behalf of the Company by Simon Berry, 24, from Sheffield, England. While bungee jumping, Berry dipped a chocolate biscuit in a cup of tea at the full extension of a bungee cable measuring 73.41 m (240 ft. 10 in). Upon achieving the record, Simon said: "This was insane, ridiculous and totally something I had to do! I have always wanted to be in the Guinness World Records book and this opportunity was too good to miss."
Setting the record as a part of this unique celebration of Guinness World Records makes this achievement even more rewarding. According to Michelle Geib, President of Xperience Days US, "achieving a Guinness World Record was a group effort that we can all be proud of as team; and, we were all happy to be a part of such a special day."
About Experience Days
Since 2004 Experience Days has been the leading experience gift company in the US. From relaxing spa days to high-octane extreme experiences, Experience Days offers thousands of unique experience gifts throughout the US via their website http://www.XperienceDays.com and in the UK via their website http://www.ExperienceDays.co.uk.